Covid-19 is accelerating the transition to a new go-to-market model
In an October 2020 article, McKinsey reports that 63% of companies are changing their go-to-market model ("How COVID-19 has pushed companies over the technology tipping point—and transformed business forever"). In biopharma, equally, 52% says that a new go-to-market model is a board priority, and 64% reports a strong sense of urgency (Across Health Maturometer 2020).
The greatest danger in times of turbulence is not the turbulence, it is to act with yesterday's logic
But how do you go about planning for the Next Normal? Next to the multi-year strategic transformation initiatives, there is an acute need to plan your campaigns for optimal impact…So, how do you define the channel mix for the Next Normal? How do you convert this into an actionable and measurable plan? And how do you track execution quality and customer impact, creating a virtuous cycle of continuous optimization?
O-C-E: (almost) as easy as 1-2-3?
That's easier said than done…Indeed, only 10% of biopharma staff "fully agrees" they master the mix and 12% say they are well-trained in digital (Across Health Maturometer 2020).
Across Health is now connecting the dots – and offering you a DIY, entry-level version of its time-tested, end-to-end campaign suite – in the cloud, and with Navigator365 as the backbone: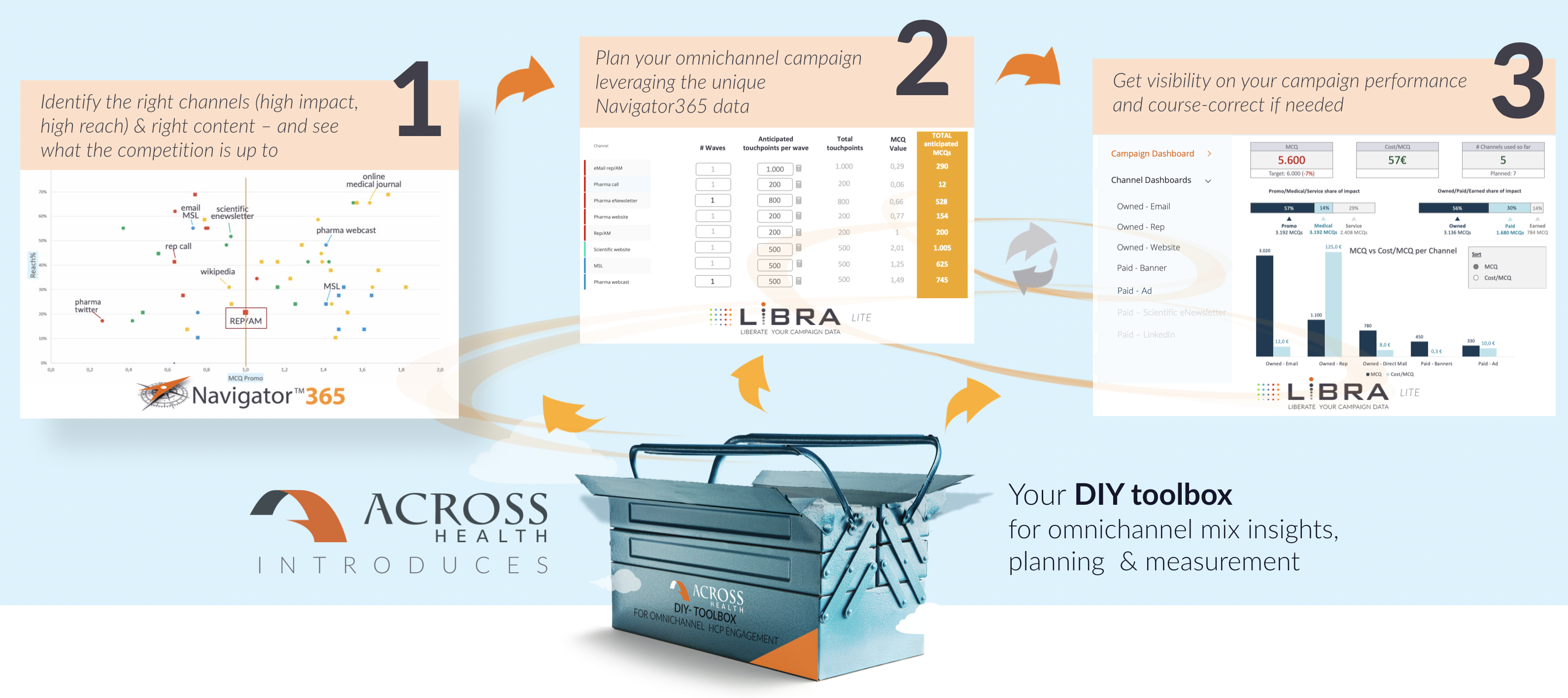 Reimagine the future of omnichannel HCP engagement by leveraging the industry-leading, uniquely actionable Navigator365 data to identify the right channels, right context, right content, right frequency, right audience, …and so much more.
Follow the step-by-step guide to plan your omnichannel campaign – define your audience, campaign objectives, channel mix and impact targets…and then ready-set-GO!
Track the success of your campaign on an ongoing basis, through out-of-the-box, self-service reporting on channel & campaign performance. Apply your lessons learned throughout the campaign and grow your competitive edge and customer preference…campaign by campaign.
So, is OCE truly as easy as described here? That would be a strong simplification…but the above does get you off to a flying start – instantly. And of course, for advanced users, Across Health is offering more sophisticated planning, execution monitoring and impact dashboarding solutions – and broader capability-building options. Feel free to inquire for more information.
What's the timing?
Steps 2 and 3 will be released in the course of Q1 to complement the existing Navigator365 backbone.
Interested in learning more about what we can do for you?
Reach out to us here.
Further reading: