---
Today's HCPs have an incredible choice of sources for information – and channels that don't appeal to them or bring new insights are just ignored. As rep access to physicians continues to drop, the role of the field force is under the microscope. Pharma is therefore moving towards a new engagement model, where the field force leverages a wide range of digital channels to create a seamless customer experience.
Our 2017 Multichannel Maturometer confirms that transforming reps into multichannel orchestrators is a key priority: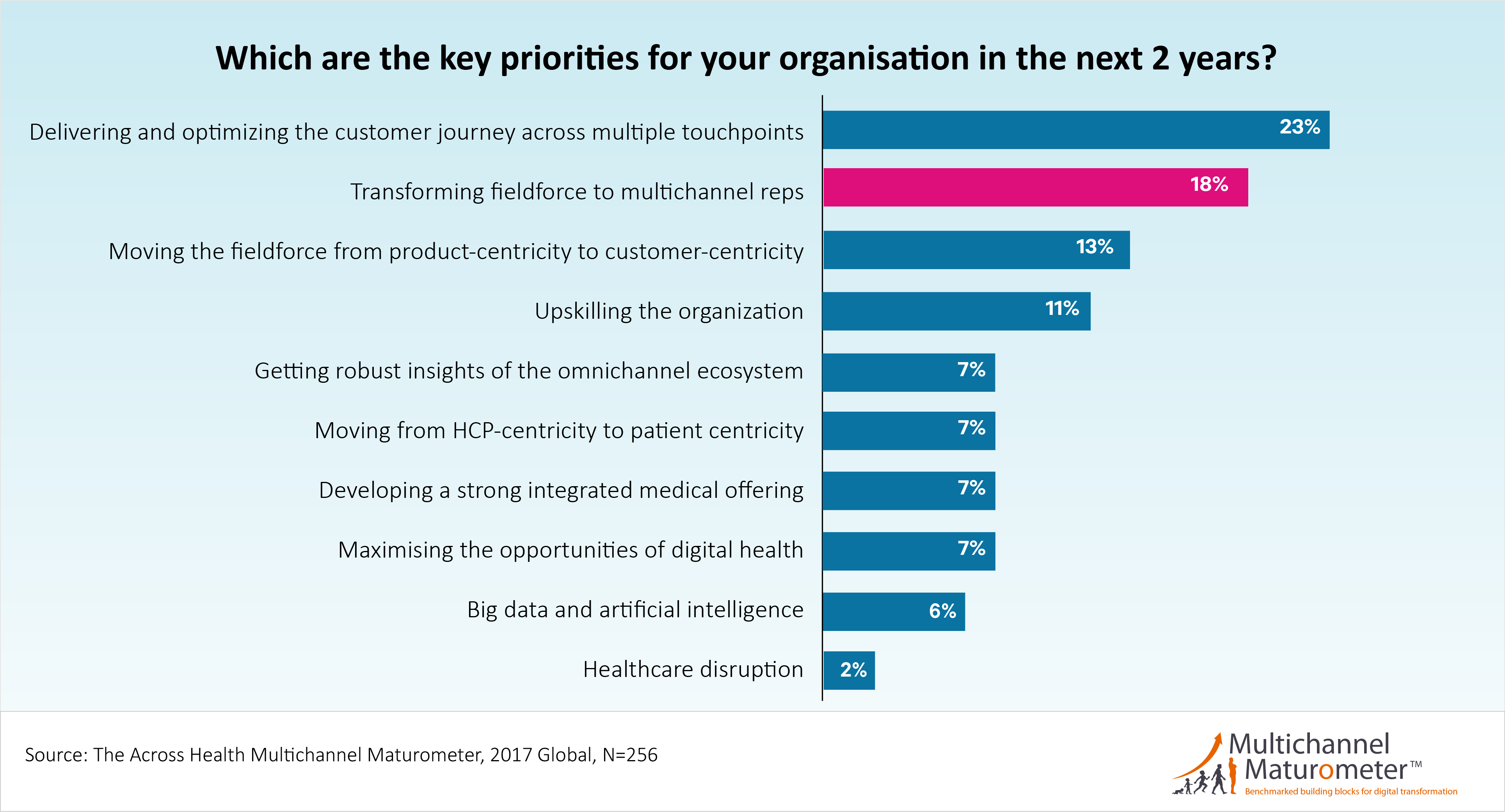 However, despite this strategic commitment, in the day-to-day world the multichannel rep is still a rarity (see also blog issue 23):
Please check our video Execution of the multichannel rep
50% of all visited physicians continues to be served in a "monochannel" way (ie rep-only)
only 6% of EU5 specialists are served in a truly multichannel way (rep+email+remote)
21% of HCPs are not receiving any pharma promo engagements at all (rep, rep email or remote detailing
Pharma progress
The most common digital rep tactics used today are tablet detailing, rep email, remote engagement and HCP self-service websites. However, their adoption across Europe is variable. Tablet detailing is the most widely -used channel (84%) but other rep-orchestrated digital channels are less frequently adopted. For example, 'approved email' – which puts reps in the driving seat to send specific, pre-approved email messages to customers – still has a lower adoption (49%) than mass email (62%). Encouragingly there appear to be strong pilot intentions in this important area. Other key digital rep tactics have much further to go.

Adoption of digital rep channels, Europe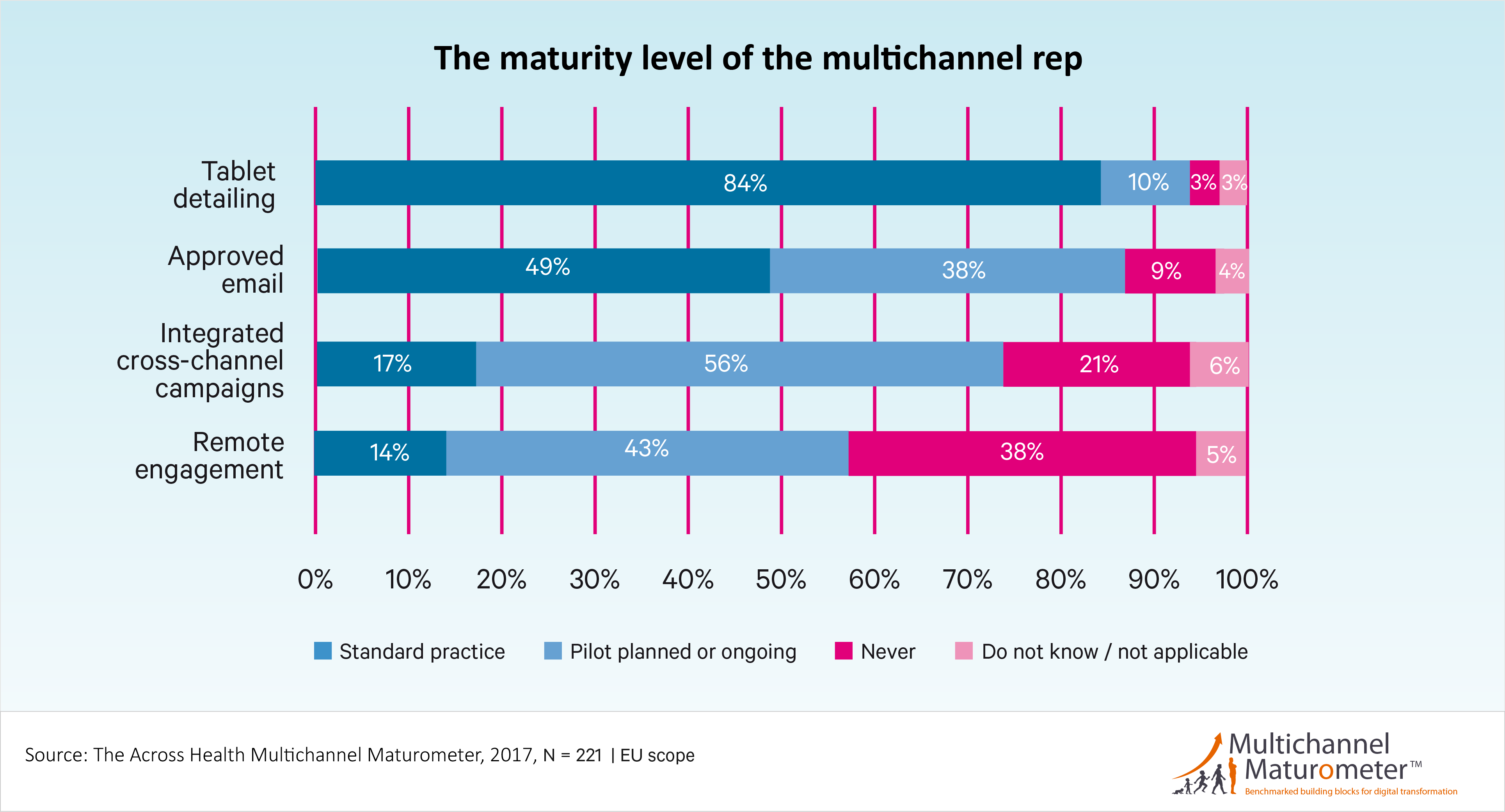 Each of the core digital channels provides a different strategic value-add for multichannel rep orchestrators. Tablet detailing can increase the impact of an F2F visit, and approved rep email can increase frequency as well as reach beyond F2F customers. Similarly, remote detailing provides additional frequency (or replaces some F2F engagements), while it can also reach customers that are not seen by reps. Finally, the use of self-service HCP websites can drive physicians to additional information that supplements and enhances the interaction and this, in turn, increases the frequency and reach of customer engagement.
The impact of these channels is borne out by the numbers. For example, among EU5 specialists, the impact of tablet detailing, rep email and remote detailing is similar to that of sales reps.
Reach and impact of rep-orchestrated channels, Europe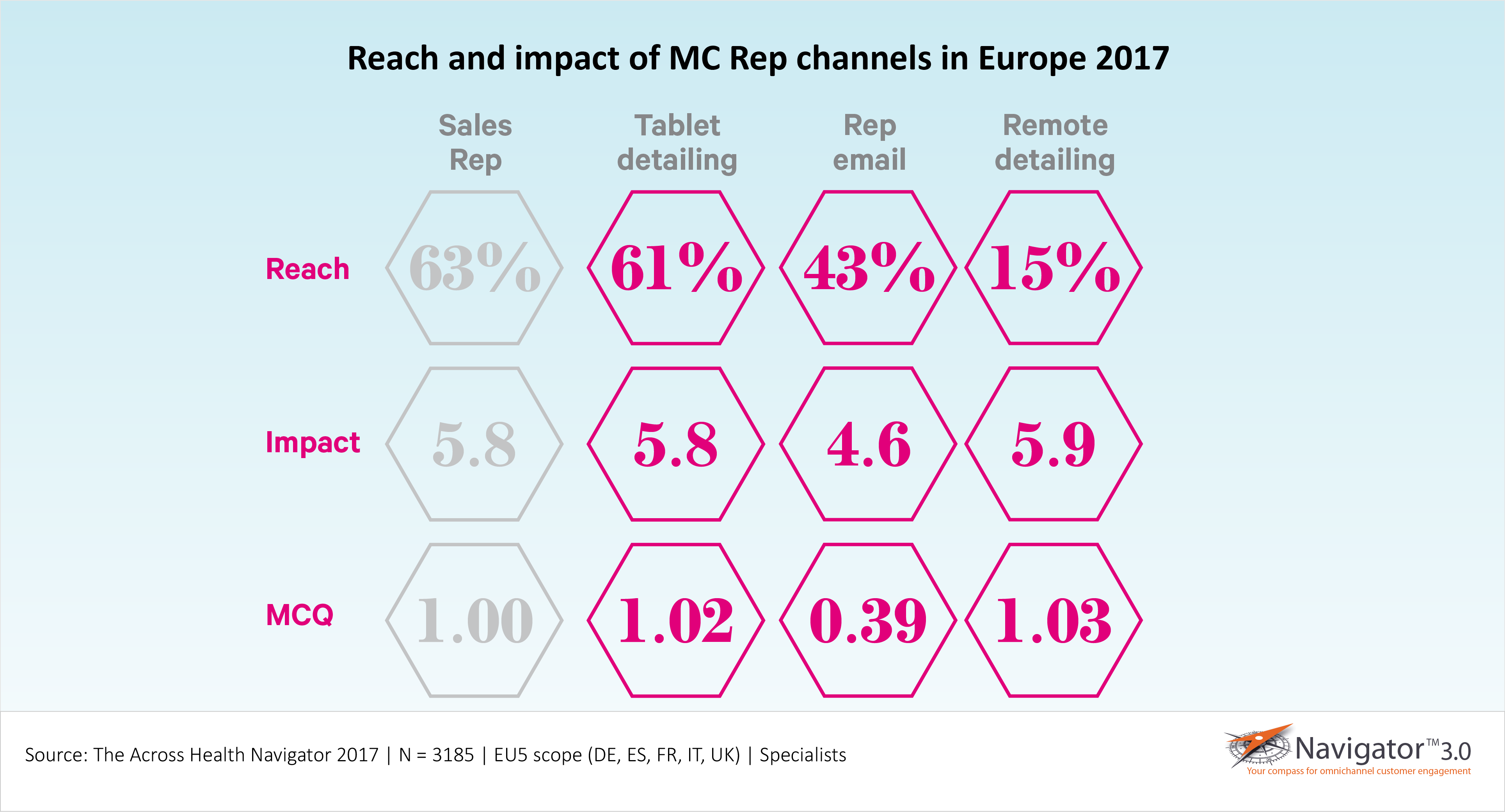 Conclusion
The argument for multichannel reps is very compelling. Indeed, an effective multichannel rep strategy can increase frequency, reach and impact as well as help build a superior customer experience (through the delivery of the right content at the right time through the right channel). In addition, it also promises significant gains in resource optimisation and uniquely actionable customer insights. However, there is clearly much more to be done before the industry can fully harness the opportunity.
For more details, see the presentation here
Further reading: