---
Most pharma launches have their success or failure set in the first six months on the market…and a well-executed robust omnichannel launch strategy is one of the keys to maximum business impact. Indeed, while 49% of EU specialists prefer to engage F2F at launch, almost the same proportion (47%) prefers a mix of in-person and digital (Navigator365™ Core 2022, EU5 specialists, n=4010). By seamlessly enriching F2F with digital at scale, the "time to critical frequency"/first prescription can be cut by 50%!
In addition, over a third of HCPs are open to receiving digital education well before the commercial launch (Navigator365™ Core 2022). Digital allows you to boost data dissemination and disease education and advance future prescribers on the knowledge ladder well before commercial can enter the picture. Imagine having 30% of your prescriber audience (the innovators and early adopters) fully educated and ready to prescribe on day 1.
Yet, HCPs state that pharma is totally underleveraging this big opportunity. Indeed, while HCP satisfaction with pharma digital is at 46% globally (Navigator365™ Core 2022, n= 7595), it is almost 10% lower for the launch phase (37%), with the lowest score seen in EU5 (34%).
How can this surprisingly low satisfaction level be explained? What is pharma (not) doing to arrive at such a low satisfaction score for what is arguably the most critical phase in the product lifecycle? The 2023 Across Health Maturometer™ – our annual report on pharma's self-reported progress towards omnichannel maturity (EU respondents; n = 217) – can perhaps shed some light here.
1) Companies strongly underinvest in digital for launch
"While pharma allocates 32% of its marketing budget to digital (an all-time high – though still notably lower than the 50% of B2B industries), most respondents say they spend (much) LESS than that in a launch context."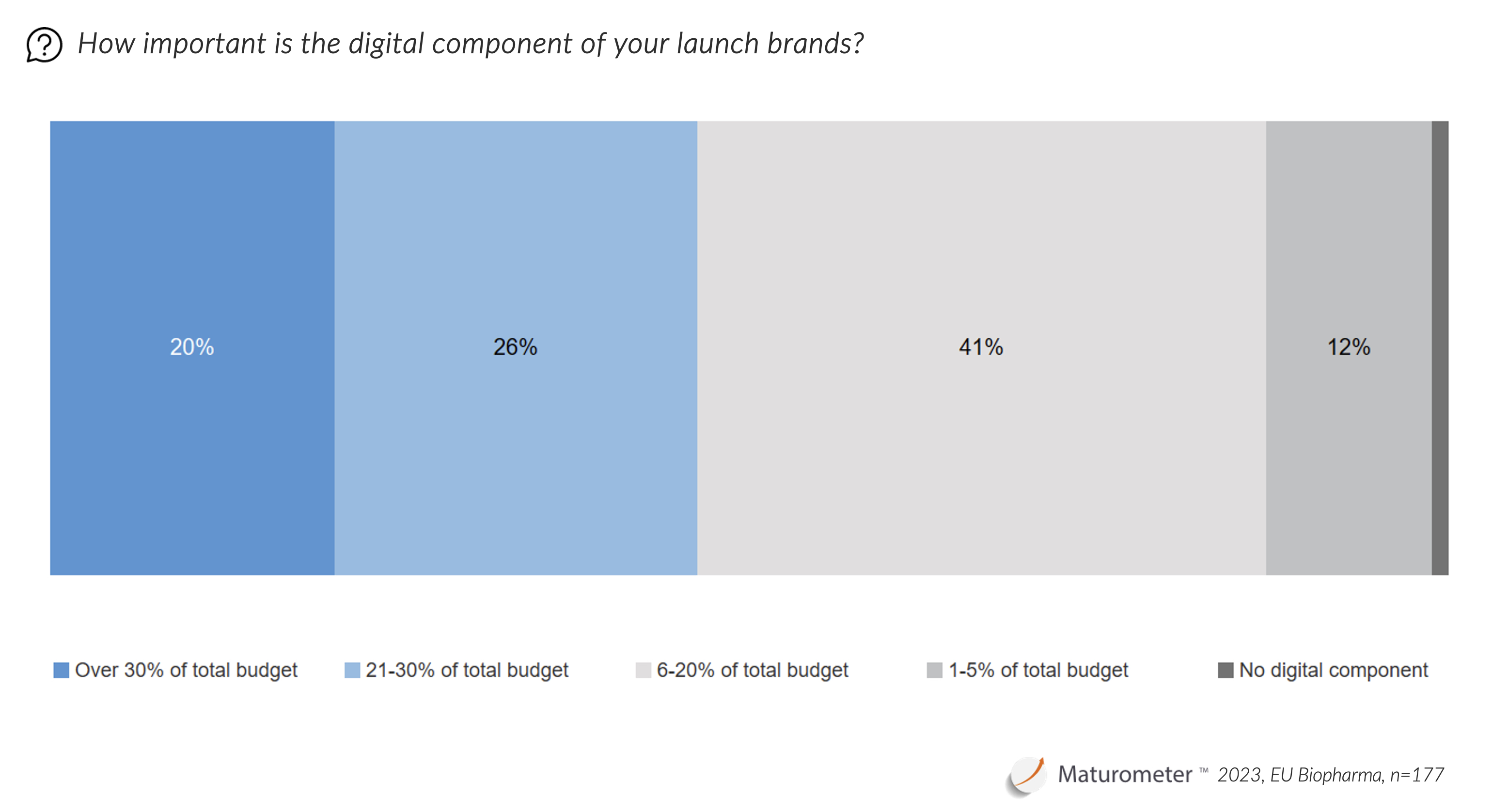 2) Pharma tends to spend these smaller budgets on the commercial launch only
Only 39% of respondents are leveraging the prelaunch opportunity for boosting data dissemination and education through digital; over 50% focus on the commercial launch only.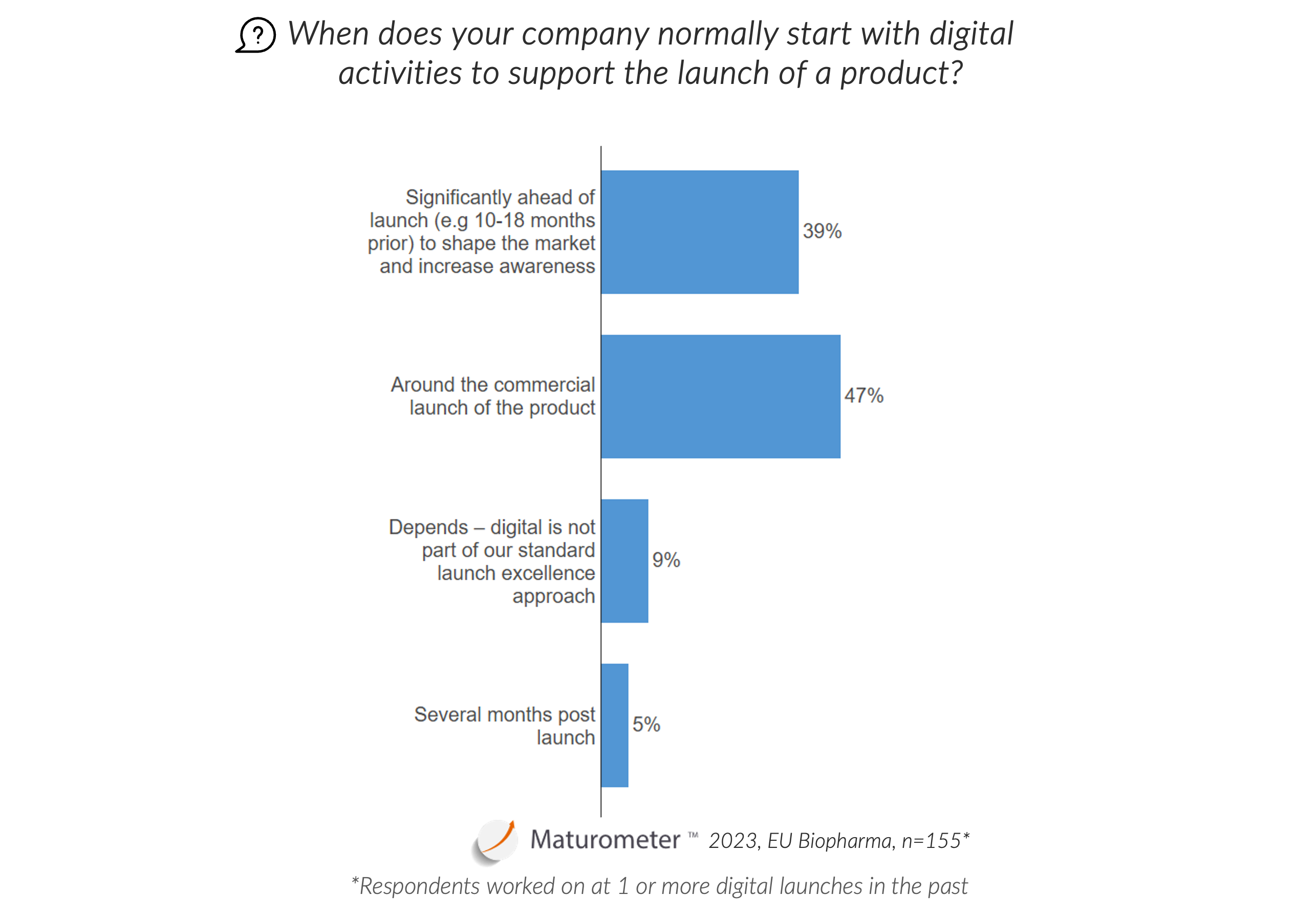 3) Most digital assets from HQ are not being leveraged by local affiliates
In times of modular content and (hyper)personalization, getting the right digital assets from HQ should reduce costs, reduce time to market and improve customer experience. However, the coordination between headquarters and local teams remains a challenge. Only a third of local teams find HQ's digital launch support to be (very) relevant. And the volume of HQ content deployed locally remains at low levels as well, with fewer than 20% claiming to use half or more of the digital launch assets provided by HQ.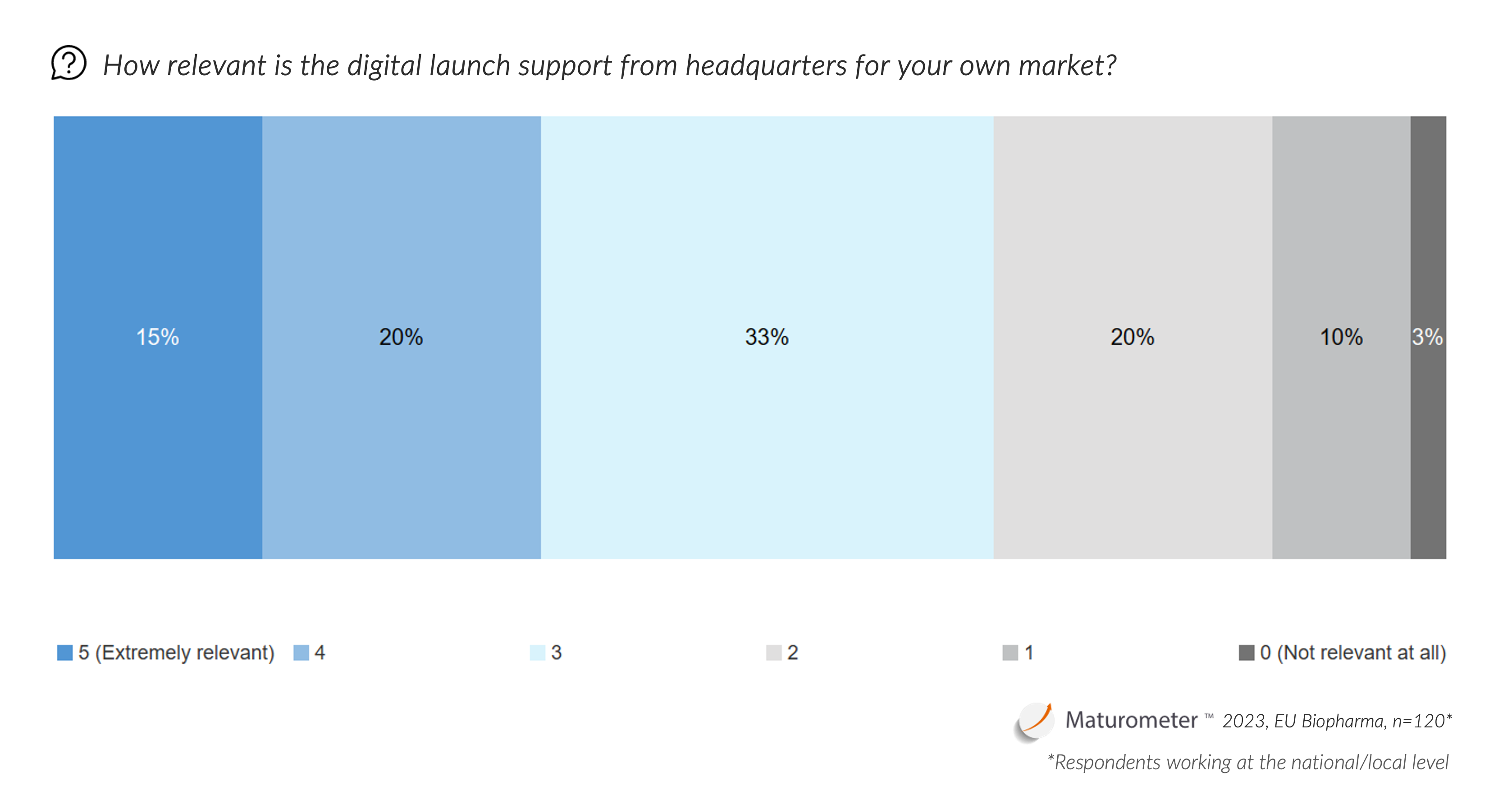 Conclusion
Pharma is underestimating and underleveraging the critical omnichannel component of product launches. Boosting the digital component of the perilaunch go-to-market strategy, leveraging the prelaunch interest of innovative HCPs through medical digital surround sound, and getting a stronger HQ-to-local co-creation effort in place are clear opportunities to markedly improve the HCP experience and satisfaction…and launch success!
Other resources: Maturometer™, Navigator365™ Core
Across Health Maturometer 2023 Report
Get a unique overview of the current state of digital transformation within life science companies!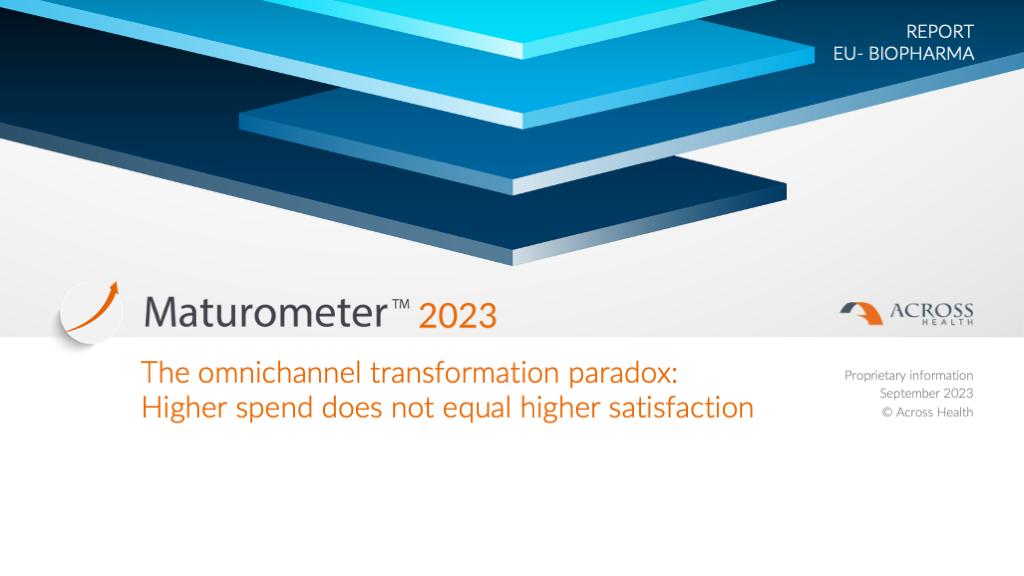 Get started now for on-the-spot access
Simply complete this short form to download your free Maturometer 2023 Report!