---
In 2021, Across Health ran its thirteenth annual Maturometer study to take the pulse of pharma's efforts and ambitions in the digital & omnichannel space.
Biopharma digital budgets up, but satisfaction remains low
In the first year after C19 hit, it's no surprise to see that digital marketing budgets are up. Indeed, within 2 years, digital budgets increased by 42% - and within 6 years, they almost doubled.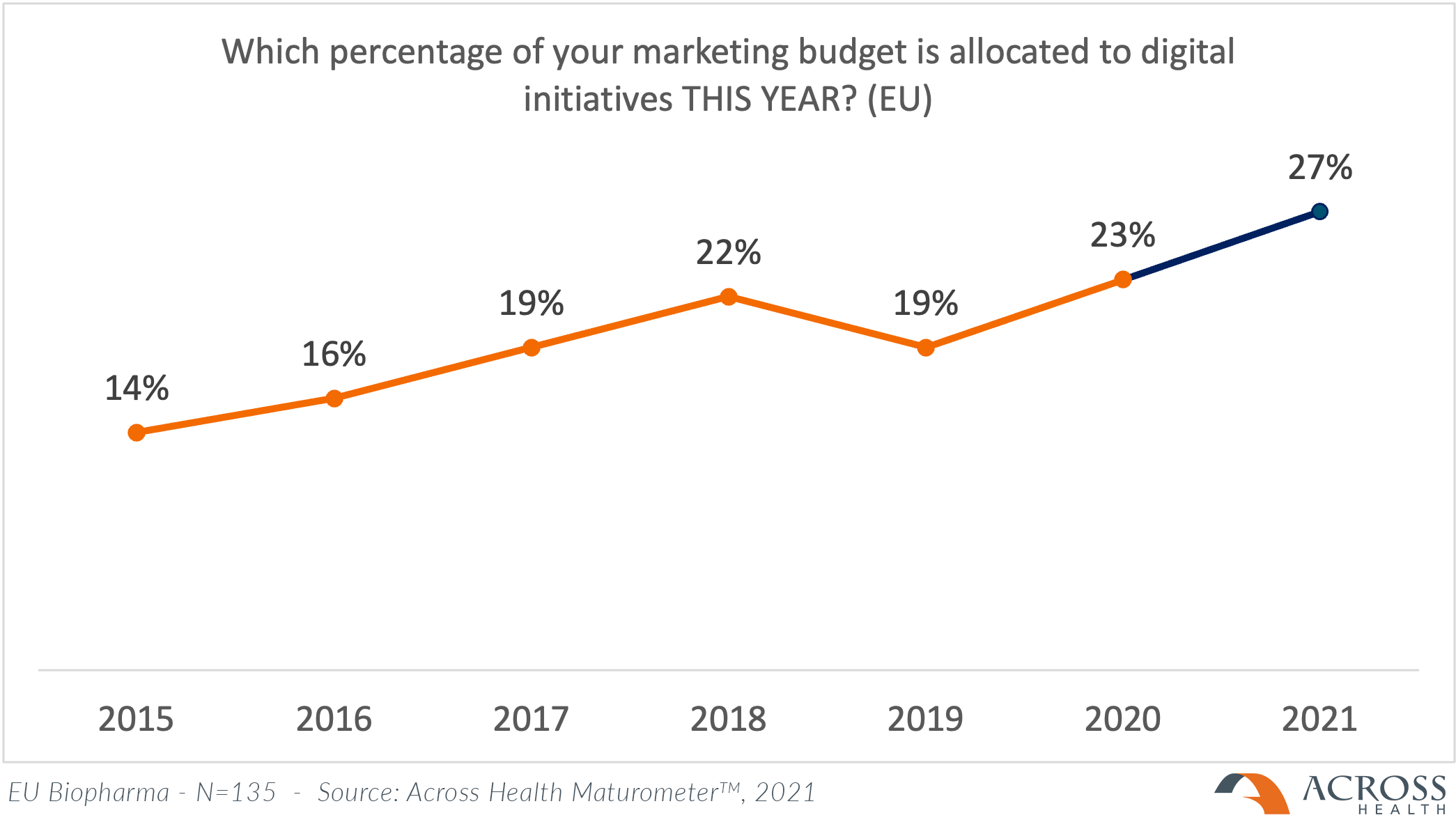 But despite these increased budgets, biopharma satisfaction levels have remained low since 2010. Interestingly, though, the number of "neutrals" has steadily increased over time, to reach 77% in 2020. Are these the "hopefuls", who believe their new digital efforts may pay off one day…but not just now yet? Did they fail to define clear KPIs upfront to assess the business impact of their increased spend? Did they spend it on low-impact channels? Did the strategy execution create issues? … Or maybe it's a bit of all of the above?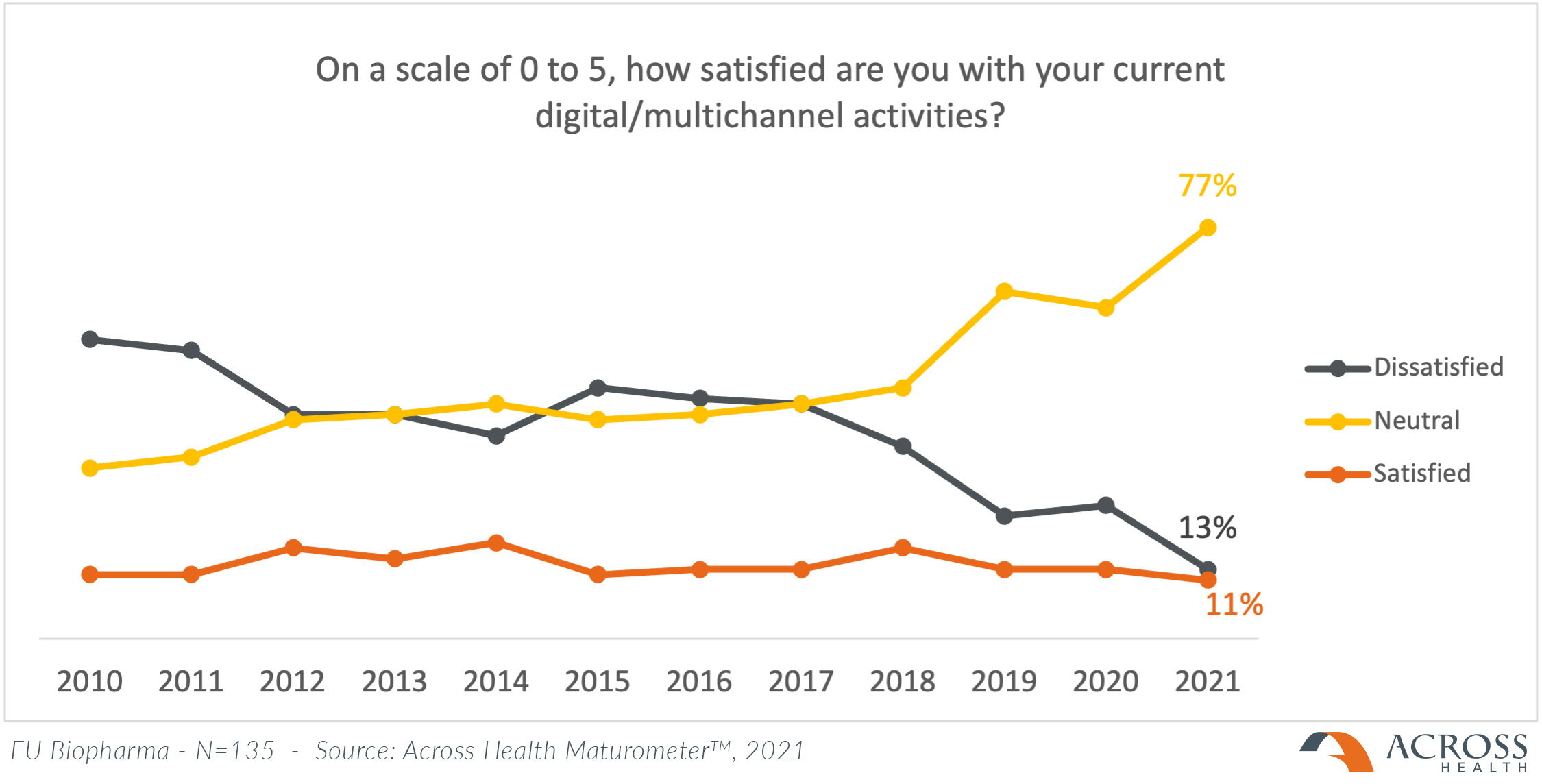 In any case, the increased biopharma focus on digital did get noticed by HCPs. Indeed, in the Q4 2020 Navigator365™ Core EU4/UK HCP wave:
62% of HCPs found digital offerings from pharma important (up from 54% in 2019);
HCP satisfaction levels rose to 42% (from 33% in 2019)…but barely budged in Italy & France.
Source: Navigator365™ Core EU4/UK specialists: Q4 2019 (n = 4104) and Q4 2020 (n=2780)
Omnichannel capabilities remain low
Just increasing digital budgets is no guarantee for success. Indeed, the extra resources need to be "invested" judiciously. For this, one needs to
know (the omnichannel affinities of) your customers;
have a robust process in place for building a robust omnichannel strategy;
be able to execute flawlessly;
be able to track impact (and course-correct where needed)
The score for every single one of these important success criteria has declined since 2018 (probably because respondents now feel the "pain" much more vs the 2018 "digital honeymoon" period) and none of them reached the 50% agreement level. Focused, large-scale investment in omnichannel capabilities for all customer-facing functions is therefore urgently needed.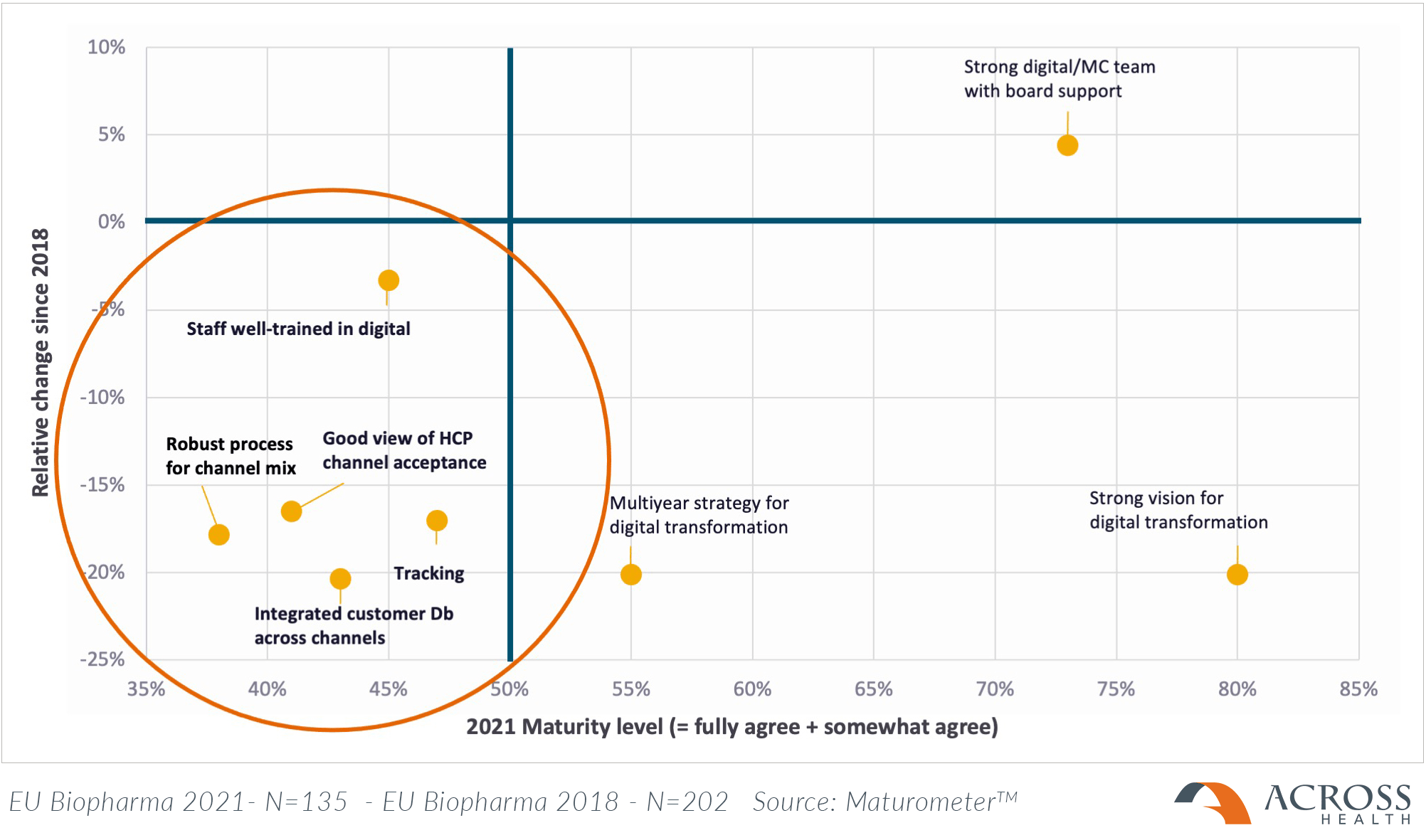 Where does biopharma think "the (omnichannel) puck is going?"
When asked about their future channel priorities, the 2021 Maturometer respondents expect strong growth for "virtual scientific meetings", "webcasts", "remote video detailing", "rep-triggered email", and "emedical education", with AI and marketing automation following closely.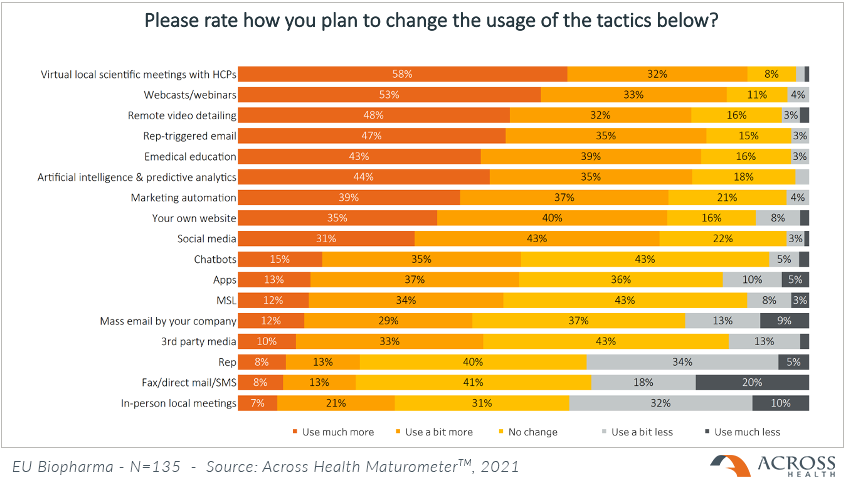 As can already be gathered from the future channel focus, most of the increased omnichannel budgets will continue to be invested in HCPs, but payers and patients are expected to be getting a bigger part of these budgets 2 years from now.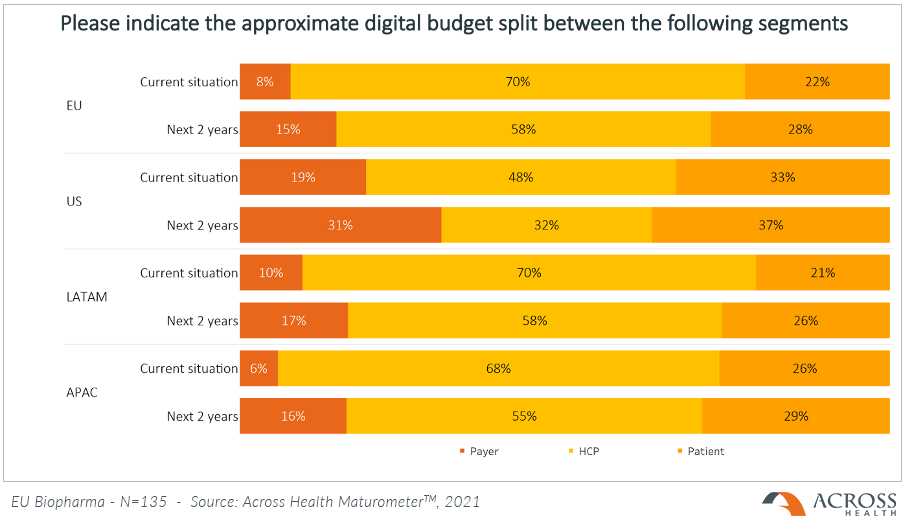 Finally, across the globe, biopharma staff are turning their attention to "omnichannel", the common denominator in their top 3 priorities: 1) developing a well-defined customer journey across multiple touchpoints, 2) transforming the field force and 3) experimenting with the mix. Interestingly, customer centricity is much lower down the list, while it is a key enabler for omnichannel success.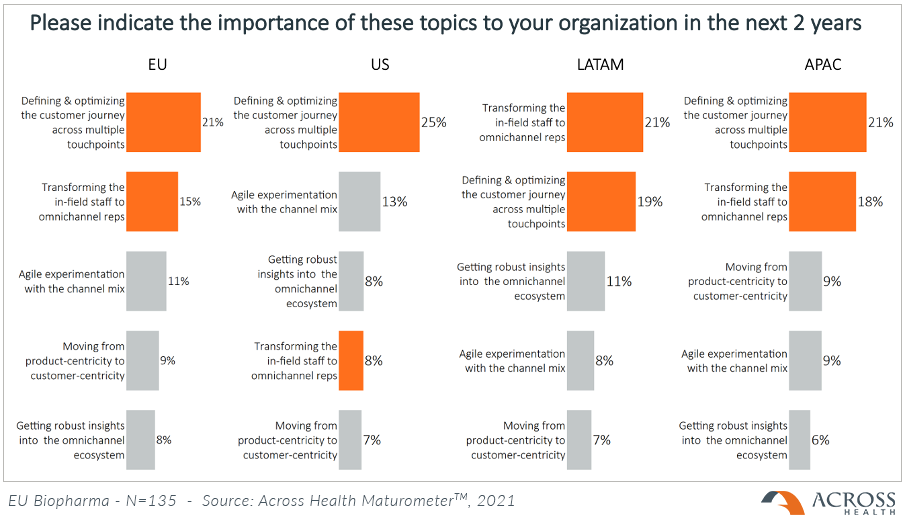 In summary, we are arguably at the start of an exciting new era in life sciences, with a strong acceleration and scaling of omnichannel – AND omnistakeholder - engagement. The time to act is now!
Further reading: