---
The pharmaceutical industry's customer base is moving in one definite direction: towards a ubiquity of digital-native HCPs. The implications of this should not be underestimated. As the information needs and preferences of medical professionals shift, pharma must adapt their communications to match if they're to drive improvements in clinical care. However, old habits die hard.
Despite this demographic roadmap, many pharma companies persist with increasingly outdated models of communication. With its customers heading in one direction, pharma's reliance on traditional marketing means many are driving the wrong way down a one-way street. If pharma is to continue to improve care through effective delivery of relevant information, it needs to understand which way traffic is actually going.
Please check our video Customer segmentation in life sciences
Independents' day
The rise of the digital native has, understandably, hogged the headlines, presenting pharma with a burgeoning group of younger, digital-savvy customers. With two-thirds of the HCP population likely to be digital natives by 2020 it's vital that the industry understands what this key demographic values. However, away from the spotlight, another discrete trend with major implications for HCP communications has been quietly bubbling: the advance of the 'independents' and the decline of the 'relationship-seekers'.
Customer segmentation is all-important for pharma, but in a digital world, this should extend beyond the traditional value-based segmentation to capture channel affinity and maximize customer engagement. Age-based segmentation (digital native vs immigrants) already goes a long way, but there are other segmentation models which can further refine the go-to-market model. McKinsey's life sciences segmentation is based on four archetypes of HCP; Independents, Transactionals, Knowledge Seekers and Relationship Seekers. Each displays distinct characteristics in its relationship with pharma.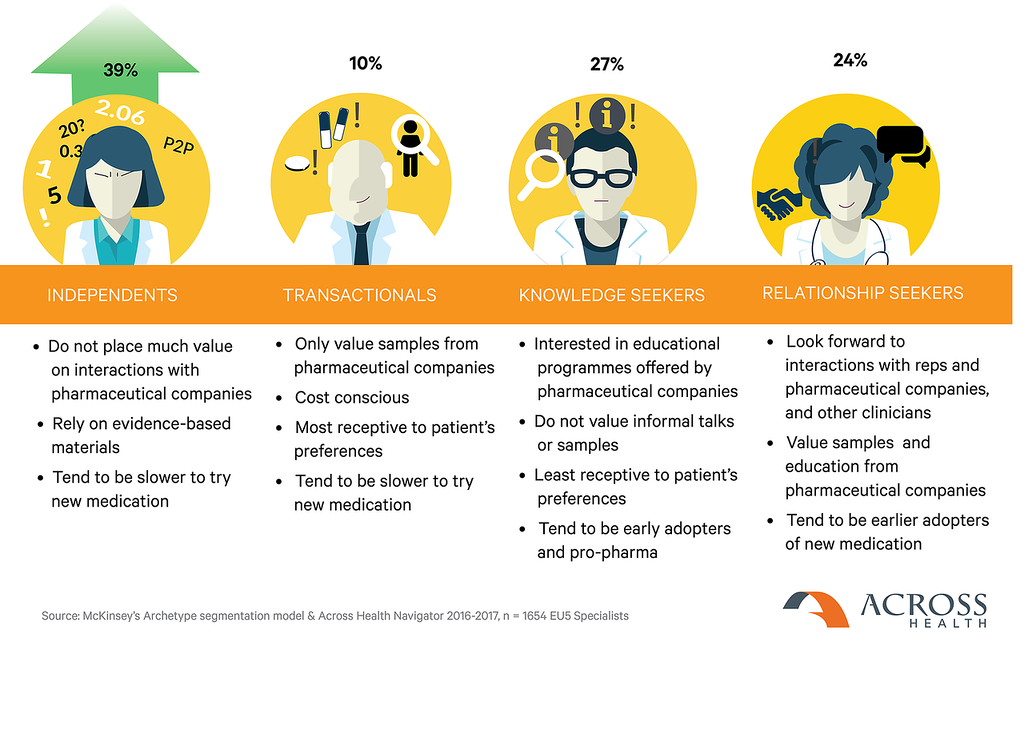 Overlaying Navigator365™ data onto this model reveals that the population of pharma-friendly Relationship Seekers is shrinking fast. Conversely, the volume of Independents (who typically limit their interactions with pharma and rely on third-party materials for medical information) is growing. Among specialists in the US, Germany and France, Independents have grown from 23% of the population in 2005 to almost 40% in 2017. This has not yet plateaued. Conversely, the remaining three archetypes are steadily falling. The traffic is heading only one way.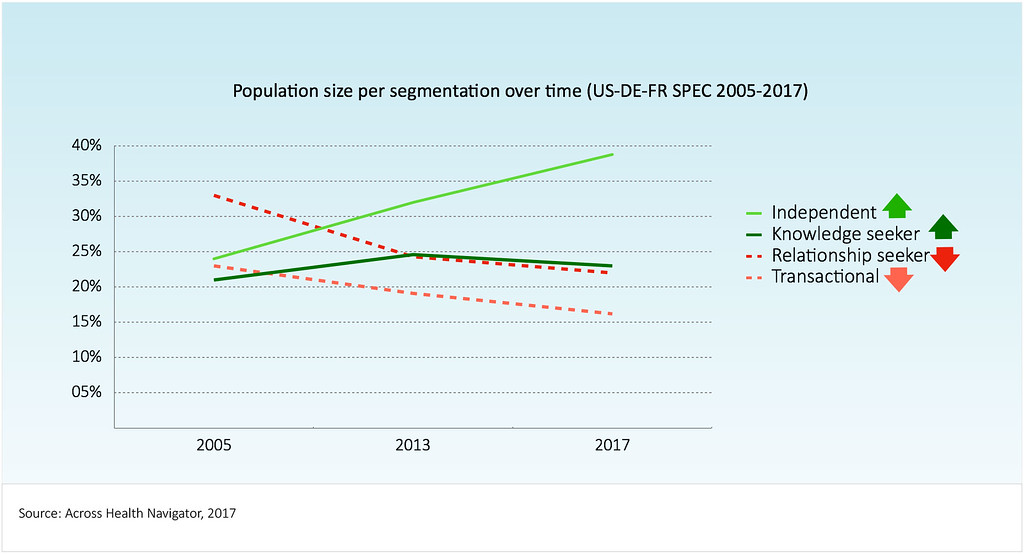 Independents want objective, evidence-based education to inform their clinical decision-making, and see little value in representative or MSL engagement, sponsored or promotional information.
The journey
The need for nuanced, customer-centric communications that are built on an appreciation of HCPs' needs and behaviours is widely understood. But is pharma actually acting on this? There's still some way to go. We continue to see a worrying misalignment between the types of communications that pharma is delivering and what HCPs want to receive. Pharma is driving against the traffic in its communication with HCPs. However, any roadmap must begin with more comprehensive, agile and nuanced customer insights. And that's a journey, not a destination.
For more details, see the presentation here
Further reading: