Who's the leader in cross-channel marketing in Europe?
Newsletter
---
---
Dear all,
Before closing another very busy year, I would like to offer you some food for thought for the festive season. As you may be aware, we recently completed our GP Cross-Channel Navigator (14 markets, 1478 respondents). This multichannel mix dataset offers a wealth of information and actionable insights at the local and international level, but I would like to highlight 2 dimensions here.
Rep quality improves but reach drops… multichannel is catching up fast.
The first one is related to the rapid changes in the multichannel mix. We performed a GP mix assessment in 2009 and compared it with the 2013 Navigator data. What are the key findings? No surprise, reps are reaching fewer GPs – a decline of 17% in 4 years – while perhaps surprisingly their perceived impact goes up. We saw similar evolutions in another historic analysis on oncologists in Spain: lower reach, higher impact… this to me could imply that the "channel" is indeed becoming more targeted and high-quality; added-value services, customization, call quality, and the sheer impact of "exclusivity"… can all be contributing to this trend. If this evolution continues (and I am convinced it will), the rep will be around for a long time still – but will focus on precision selling & service.
Multichannel items like DM, pharma website and edetailing top the rankings in terms of increased reach. DM more than doubles, pharma website gains 50% between 2009 and 2013. These phenomenal numbers illustrate that HCPs are opening up fast to these channels, and… that pharma is starting to understand how to serve HCPs in a cross-channel way, as also the impact of these channels is going up. Even the traditional ad is having more impact than before… probably because the channel lost the "clutter" effect.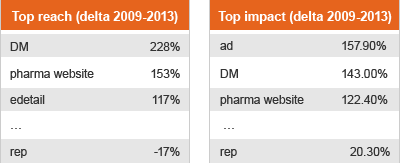 Which pharma company is a leader in cross-channel in Europe?
In the Navigator, we also asked GPs for their top-rated pharma companies in the field of salesforce, medical education and digital – in 14 markets. You may recall that Capgemini positions pharma at the very early stages of organizational maturity re digital (The Digital Advantage 2013). Our Navigator data confirms this in at least one way. While most other industries are getting organized centrally and creating a high-performing local execution framework, pharma is clearly lagging in terms of cross-country consistency. No single company made the top 3 in terms of digital excellence in all 14 markets; the most consistent company scored 11 out of 14 and was the leader in 6 markets. The second one scored 8 top-3 positions and was first in only 1.

Interestingly also, all of the top-4 companies still have a strong GP portfolio, so it would be expected that they would be mentioned often regarding digital too (halo effect). However, we do see some interesting deviations, if we use the "digital index" (ie, digital score/rep score). Ceteris paribus, you would assume a 100% index score, ie rep top-of-mind (TOM) leads to digital TOM. Although the average digindex for the top 10 companies is indeed 108%, some companies score significantly better – number 3 and 9 – and some significantly worse (particularly company 8). And some specialist companies have a much stronger digindex than the leading GP company, implying they have a strong strategy in place to substitute GP fieldforce with multichannel… At least one company therefore seems to be on the way to create a consistent digital footprint across the region; the other ones lag significantly. A lot more organizational change will therefore be needed to move an entire company to the next level.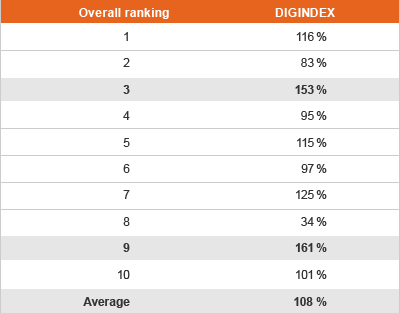 Going into 2014, such fact-based insights will be key to taking cross-channel to the next level. I wish you a great Christmas break & look forward to seeing many of you in 2014!
Fonny Schenck,
CEO Across Health
---
Previous
Next