Chart of the Month - Few German oncologists are keen to return to pre-Covid levels of face-to-face engagement
Industry insights
---
May 2022, our CHART of the MONTH: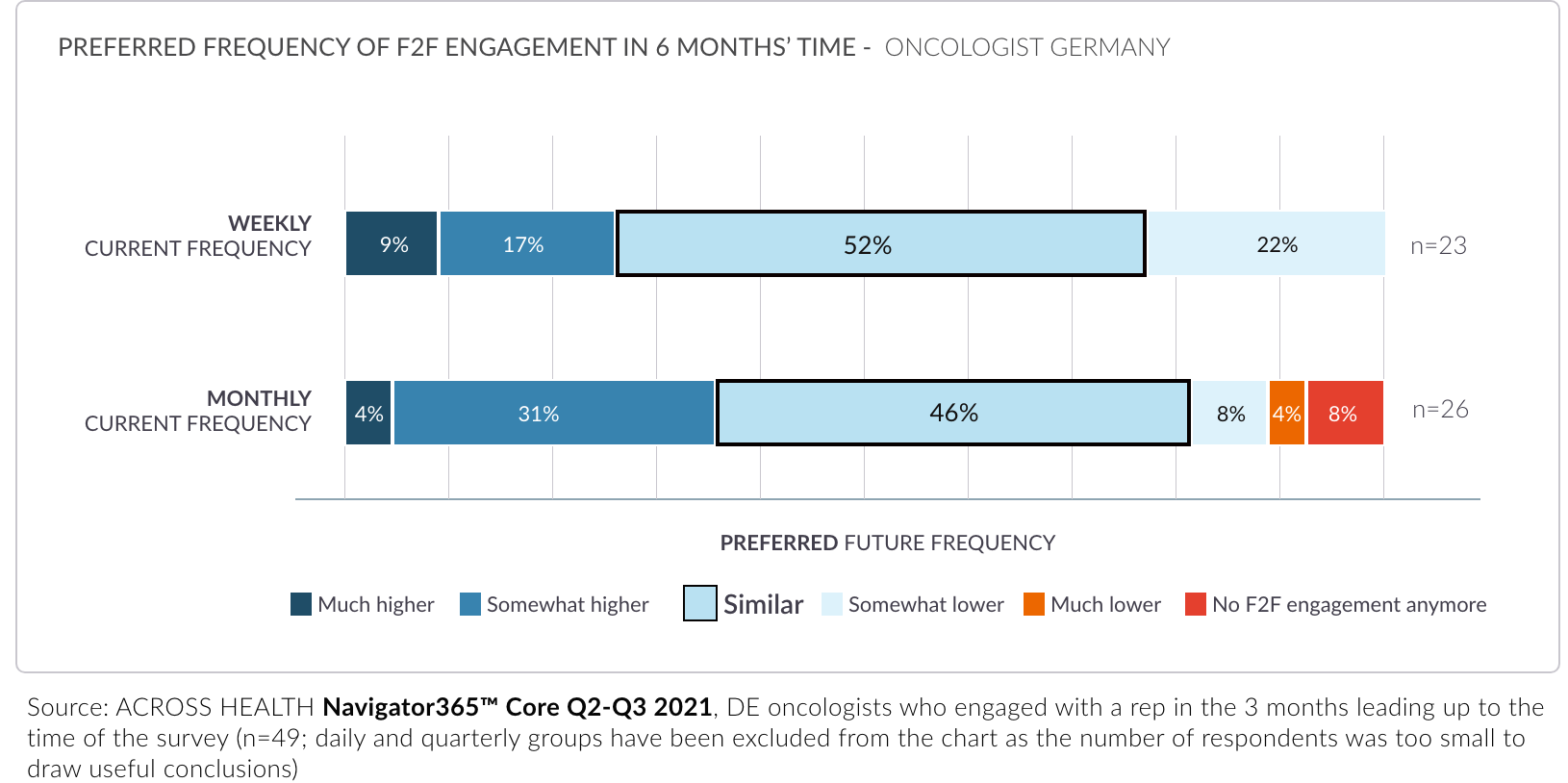 Most countries recently relaxed their Covid restrictions (or in some cases removed them completely), and it might be tempting to want to get "back to normal" by stepping up significantly rep visits with your customers. But what do physicians prefer themselves? Here we dive deeper into Q2–Q3 2021 Navigator365™ Core data for German oncologists, a traditionally difficult-to-see specialty.
Our data suggest that around half of German oncologists would be perfectly happy with the lower face-to-face frequency they were receiving during 2021 Covid times. Most respondents desired a similar level of face-to-face engagement to current levels (which in most cases involves approximately weekly or monthly visits) – only a small percentage said they would prefer a much higher frequency. Interestingly, at the same time, leading oncology companies like Pfizer are publicly stating they are revisiting their F2F model for the "post-Covid era". Both trends (customer demand and pharma supply) may well start to reinforce each other, leading to a fast-changing omnichannel mix landscape. Needless to say we will be watching with interest to see how this trend evolves!
If you would like to know more about how Navigator365™ can offer uniquely actionable insights to help you shape your next customer engagement strategy plan, then please get in touch!
Chart of the Month is an ongoing series where we highlight an interesting chart or statistic from our Navigator365™ Core research, and offer a brief commentary on what this can tell us about trends in customer engagement in the life sciences.