The Multichannel Rep
Newsletter: Come Across
---
---
Dear colleague,
When we recently released a webinar on the Multichannel Rep, we had no idea that the topic was so hot. In less than 5 days, the webinar was accessed by over 160 viewers, and if the trend continues, it will overtake our highest ranking session on "Multichannel Mix Optimization" (February 2013!) in no time.
One of the webinar polls illustrated this rapidly heating up platform nicely: only 9% have already equipped their reps to become the "multichannel orchestrator", while 42% are planning to do this in 2015. Another 42% have some ideas here, but no firm deadline – and 6% state it is not an option for them. And a full 50% believe the rep-of-the-future multichannel toolset consists of CLM, email marketing, remote detailing and call center…not a small change indeed.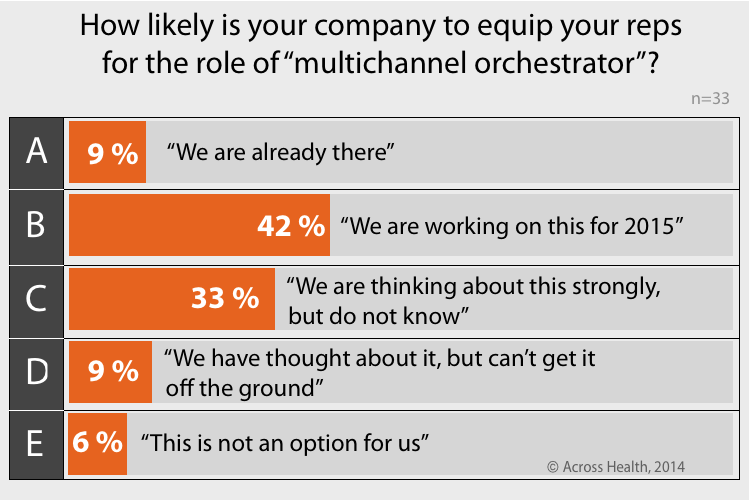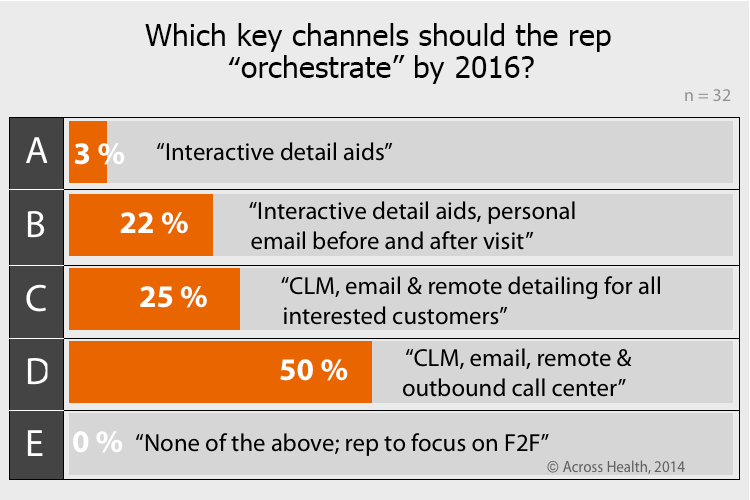 And again, the early adopters are moving into this space quickly. It feels a bit like the iPad boom, which became a universal tool in 2-3 years time. There is hope however, that this time around, industry will look beyond the hype and plan for this important change in a better way than the tablet detailing wave, which customers do not find differentiating – witness among other things our recent Navigator 2011-2014 data. This demonstrates that the channel alone is not the differentiating piece, the combination of the right channel together with the right content – and right time - is.
Another harbinger of change in the multichannel repfield is that ZS Associates, one of the leading SFE consultants, has recently published an article on the multichannel rep. And at the same time, companies like IMS/Cegedim and Veeva have been preaching the same philosophy to sales leaders and senior company leaders as well. We are convinced that this "surround sound" in the increasingly open ears & eyes of sales and business leaders will drive a rapid acceleration.
We do hope, however, that the high expectations of industry will not ultimately lead to a trough of disillusionment, like the first experiments with remote detailing and the tablet detailing investments.
In addition, we should keep in mind that many in the industry may be myopic – and continue to focus only on what they know best: the rep and the HCP, while ignoring the longer-term opportunities created by the massive entry into digital health by digital disruptors like Samsung, Apple, Google, Amazon, and other non-traditional players in healthcare.
A strategic roadmap is clearly needed to ensure a successful journey on the road to the New Normal in pharma….we wish you every success in this important transformation process!
Best regards,
Fonny Schenck
CEO Across Health
---
Previous
Next