The digital pharma landscape is up for pervasive change...
Newsletter: Come Across
---
---
Dear colleague,
As our recent Cross-Channel Navigator for GPs shows, physicians are not very excited about pharma's digital offerings - only 25% rate them 4 or 5/5.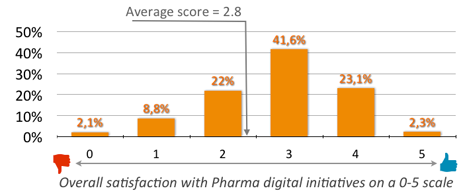 And according to our recent Multichannel Maturometer, pharma marketers are even less satisfied with their own digital offerings – only 13% is (very) satisfied...a similar number as in 2010!
On a more positive note, this may indicate that there are "hotspots" of digital excelllence out there: at least a core of life science professionals are on top of digital – and a subset of HCPs is giving pharma a "like". William Gibson's famous quote therefore surely applies too
"The future is already here -
it's just not very evenly distributed."
In addition, 14% of pharma marketers rate their digital roll-out programmes as very fast...so clearly the digital pharma landscape is up for pervasive change (and even "disruption"?). And with a "silent majority" of over 40% of "neutral" HCPs, pharma leaders may soon start to win them over...and move the needle.
Indeed, it could well be a hot summer ahead of us – or at least an Indian summer, when we are all back at our desks!
On behalf of Across Health, I wish you a great summer break...
Best regards,
Fonny
---
Previous
Next