Meet the 2015 trends
Newsletter: Blog
---
---
Dear colleague,
For most of us, 2014 is already a distant memory and we are already full of exciting plans for 2015. Our 2015 tagcloud, based on expert predictions, will offer some guidance already as to what other industries and companies have in mind... And what do we see in our crystal ball?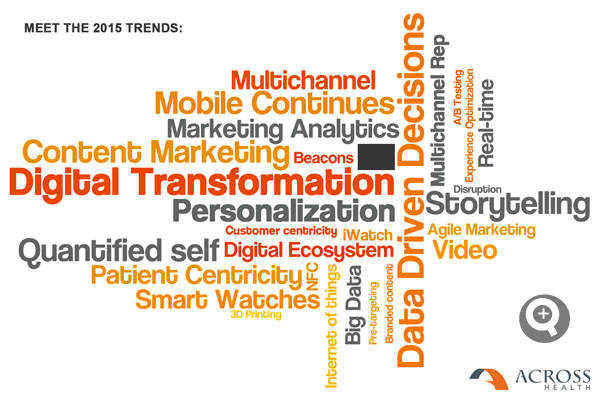 All in all, I believe 2015 may well show the "end of the beginning" for digital transformation in pharma. The age of "let a thousand flowers bloom" is rapidly coming to an end, and digital is entering the "New Normal" space. With topics like "multichannel rep", "digital maturity"rapidly gaining traction, 2015 should see several big-scale transformation efforts in pharma, while "customer engagement" will move beyond lip service, and also "patient centricity" will gain the long-deserved momentum in advanced companies. On top of that, CLM 2.0 (cross-channel customer intelligence, personalization,…) and digital disruption/innovation (fueled by the internet of things and mhealth) will start to move to centre stage. We trust we can support you on this important journey and look forward to seeing you (again) in 2015!!
Have a Nifty Fifteen!
Fonny Schenck,
CEO Across Health
---
Previous
Next