Impact Measurement... Show me the money!?
---
---
An early analysis of our Digital Barometer 2013 shows that ROI is now the second most important hurdle to success in digital (after the perennial legal-regulatory concerns). Together with lack of internal skills (4th place) and lack of senior management support (7th), it is the only hurdle that has been rising through the ranks in the last 3 years. And maybe there is even a link between these three? Senior management is looking for quick wins and strong business impact with digital ('show me the money!) and has not seen these at all and is getting impatient… as a result, the focus on ROI is increasing and the need for skilled "fusion" resources who can make it happen as well…
So, why did we get in this dire situation in the first place? On the one hand, some marketers research everything to death to ensure a strong hypothetical ROI before even embarking on a cross-channel programme. Others get attracted by the latest hypes in social/mobile… and just want to "innovate", not realising that it's also about establishing digital as a key (and often decidedly unsexy) channel and integrating it into the business (decidedly unsexy too).
Neither of these two extremes will galvanise the slow movement of pharma to the 'New Normal', where digital is not about innovation, but has become a commodity – and an inherent part of the mix. The quants do not realise that their limited multichannel investments (15.5 per cent of the marketing budget, according to the first analysis of our Digital Barometer 2013), are merely a drop in the ocean. In addition, if you can prove ROI in an experimental setting, it is often the result of highly variable factors – competitor activity, quality of execution, message relevance, sequencing of other channels, salesforce integration… and not so much about the channel per se. Decisions are made based on a cross-channel experience – a single channel no longer does the trick…Channels do not have an intrinsic ROI!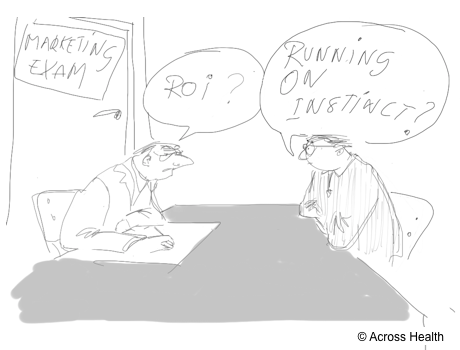 So, pharma needs to look at the channel mix in an entirely new way. Zero-based budgeting rooted in a solid understanding of channel dynamics is a key prerequisite for being successful in the 'New Normal'. Econometric modelling is not helping here, as the data sets on multichannel are limited versus the dominant channels. A better way is to initiate primary quantitative research into key channel (and stakeholder) dynamics, followed by a qualitative validation, resulting in a zero-based, robust cross-channel plan followed by flawless execution. In the course of recent years, Across Health has tailored this model (hailing from FMCG) to life sciences. It looks at a quadrant of leading/lagging and qualitative/quantitative KPIs, going from reach, to engagement, conversion and…ROI. However, the other types of metrics are more easily measurable, come at a low cost and do have a strong predictive power for business impact.
Fusing this macro-perspective with the micro-perspective (customer-level analytics) and selective dashboard tracking would certainly accelerate the transformation of pharma to the 'New Normal', resulting in a virtuous cycle of measurable impact and higher budgets.
For sure, there's gold in them hills…let's show the senior leaders the money!
Written by
Fonny Schenck,
CEO Across Health
---
Previous
Next