How multi-channel attribution modeling allows you to be less wrong with your data, and measure the true impact of digital ad spend
---
---
With digital marketing everything is measurable, right? Wrong! Of course, digital marketing tools allow for easier tracking of results than traditional marketing channels such as print. But web analytics is still incomplete, and can sometimes lead you to draw incorrect conclusions.
A multi-channel attribution model allows you as a marketer to look at a multitude of (digital) channels that contribute to a desired on-site action, known as a 'conversion', over an extended period of time. So instead of the traditional method of crediting a conversion to the last channel clicked or viewed, an attribution model will attribute credit to each 'touch point' within the conversion funnel. This should provide you a more holistic view of your paid, earned, and owned digital media.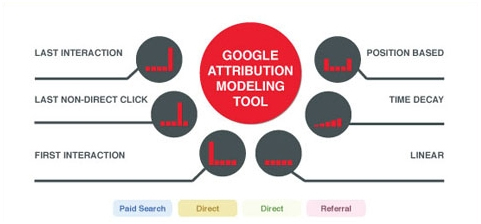 Setting up attribution models suited to your business can be a long and arduous task, and getting the right data sets to work, can prove to be even more difficult. Recently Google has launched a new attribution modeling feature within its web analytics tool, which should make life easier for us digital marketers. Let's take a closer look.
For attribution modeling to work properly in Google Analytics, you first need to ensure that all (digital) campaign results are properly displayed within the Google Analytics interface, and obviously that conversions are tracked. Once this configuration is done, you can start testing and measuring the true effectiveness of your digital channels.
Imagine you are trying to boost registrations for a website targeted at healthcare professionals, and that this website is promoted via social media advertising on LinkedIn. After a while you'll hopefully indeed see an increase of overall registrations, yet if you merely look at the last click attribution model, a significant number of registrations still seems to be attributed to non-paid channels such as organic search or direct visits.
Does this mean that your paid channels were wasted? No, it might simply be the case that the doctor who first reached your site via a LinkedIn advertisement over lunch, didn't have the time to complete the registration then and there, but rather waited until the next weekend, went back to your site (directly), and then actually registered to your site. With multichannel funnels and attribution modeling you can now see these actual numbers in Google Analytics, and compare different models against each other to measure the effectiveness over time. This should allow you to make better decisions to justify your allocation over owned-paid-earned in general, and within those categories, to specific channels.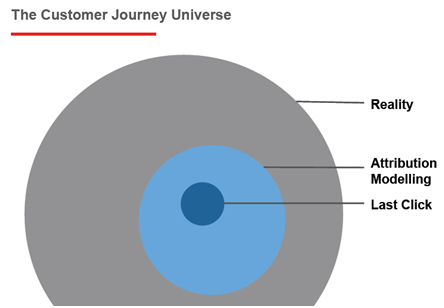 While attributing modeling in Google Analytics provides a significantly better understanding of your digital campaign results, it does have some limitations due to the fact that it is cookie-based. Some users delete their cookies on a regular basis. More importantly, today's surfers are using their desktops, laptops, tablets and smartphones to visit your site, leaving the tracking cookies defenseless. But even when acknowledging these technical limitations there is no excuse for not starting testing with attribution modeling right now. It's the closest you can get to the real-life customer journey, without favoring assumptions over actual data.
Across Health is the partner of choice for innovative life sciences companies around the world who want to create a sustainable competitive advantage in 'The New Normal', and has many experienced in-house consultants who develop multichannel marketing strategies, execute your online marketing campaigns, and measure the effectiveness via advanced web analytics and custom-built dashboards tailored to your business objectives.
Written by
Kenneth Peeters,
Consultant
---
Previous
Next