eMedical in the Mix (or not?)
Newsletter
---
---
Dear all,
Early beginning of this year we organized our first webinar on eMedical. Around the same time, we launched a 2-day eMedical workshop in partnership with Celforpharma, both of which were very popular. Interest in this topic is therefore clearly on the rise…but investment in emedical channels has been subdued at best.
Indeed, although physicians clearly (and understandably) prefer emedical over emarketing, pharma spend on emedical has been less than stellar. This is quite clear from our recent Cross-Channel Navigator, a syndicated channel mix assessment with 1478 GPs in 14 European markets. One of the key dimensions there is "reach" (ie – "have you been exposed to this channel in the past 3 months"). The reach question is in fact a supply & demand question: on the one hand, it may point to HCP interest (demand) but also (and often even more) to the level to which pharma supplies this channel…In the Navigator, the top 3 emedical channels score an average reach of 15%....vs 35% for emarketing. In addition, you would expect a higher impact score (X axis) for emedical, but that is not borne out either: emedical execution scores far below the top 3 offline medical channels…and almost at the same level as emarketing…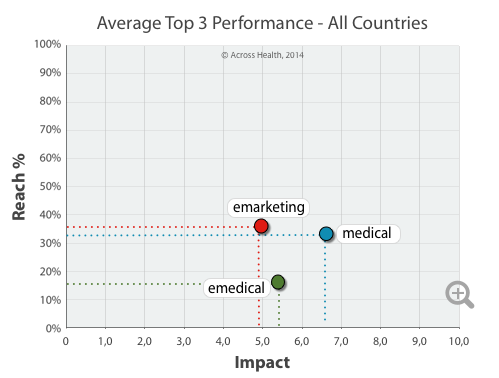 What this overall chart does not show you is that in some markets, key emedical channels are reaching up to 40% of GPs, with impact scores of up to 6.8… And of course, in specialist markets, reach & impact of emedical are better – but still less than one would predict. Clearly room for improvement, therefore.
The bigger question of course is: why does emedical not live up to customer expectations yet? I am inclined to think that while Marketing & Sales leaders put a toe in the digital waters quite quickly, Medical is only just now entering the space in a more structured way. Another contributing factor appears to be the lack of measurement. 25% of our webinar pollers said they do not measure the impact of emedical and only 18% were satisfied with their impact measurement. It should be no surprise then that 86% find defining the optimal medical mix to be (very) challenging – vs 71% for marketers (Digital Barometer 2013). The fact that ROI cannot be measured in the medical space will certainly play a role here. However, there are many other KPIs that can track customer engagement and investment efficiency & effectiveness, and which can help you optimize the mix. Some examples of KPIs measuring direct and indirect communication/behavioral effects across the decision journey are shown in the table below. For more information, see our webinar on impact measurement.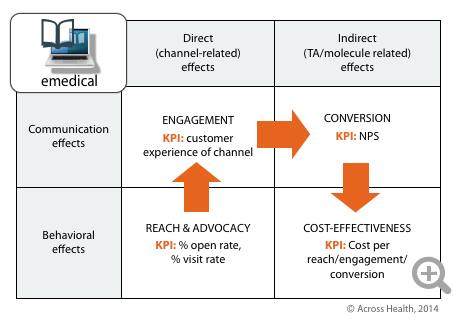 With 2014 being the year when digital native HCPs overtake digital immigrants, with F2F access becoming more and more difficult, expensive and complicated by the US and European Sunshine act, topped by the coming tsunami of "big/"right" treatment data, Medical Affairs teams face plenty of opportunities and challenges to give their medical mix a "total makeover". Watch this space!
Bye for now,
Fonny Schenck
CEO Across Health
---
Previous
Next