Citius. Altius. Fortius.
Newsletter
---
---
In January 2001, in the midst of the Internet hype, Rosabeth Moss-Kanter published an article in the HBR: "The ten deadly mistakes of wanna-dots" on why organizations fail to capitalize on the digital opportunity, including statements like:
"Mistake 1. Sprinkle Internet responsibilities throughout the company—a little Web site here, a little brochure-ware there. Let them all go forward, as long as they stay small and innocuous.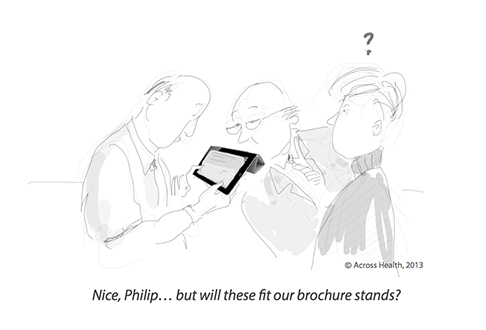 Mistake 7. Under the banner of decentralization and business unit autonomy, reward each unit for its own performance, and offer no extra incentives to cooperate in cyberspace."
Twelve years on, most of these mistakes are still commonplace in many pharma companies No surprise then, that a 2013 study by Capgemini (The Digital Advantage), finds that pharma is the least developed industry in terms of digital maturity (or "transformation management intensity" as they call it, the x-axis). (Interestingly, it scores higher than many other industries in the space of "digital (innovation) intensity", the y axis.)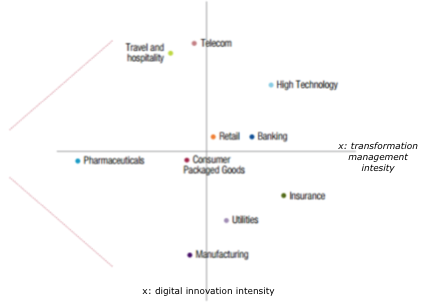 This then begs the question: WHY is the move to cross-channel organization not happening faster? In such discussions, I tend to rely on the highly intuitive Gleicher's formula:
D x V x F > R
Three factors must be present for meaningful organizational change to take place.
These factors are:
D = Dissatisfaction with how things are now;
V = Vision of what is possible;
F = First, concrete steps that can be taken towards the vision.
If the product of these three factors is greater than
R = Resistance
Then effective change can take place
The first condition for change is certainly there… With sales and marketing budgets under continued pressure and customers increasingly expecting a topnotch cross-channel experience, senior management is getting increasingly frustrated and dissatisfied with the slow pace & impact of their cross-channel activities. Indeed, a mere 15% of European respondents were (very) satisfied with their digital activities, according to our Digital Barometer 2013 -- and only 11% in the US. These numbers have been flat over the past 4 years (and even show a small downward trend in 2013).
The vision of what is possible is certainly there, but as in Ms Kanter's article, vision and strategy are mostly decentralized – spread too thinly between the silos of sales, marketing and medical and between the operating companies. A robust top-down vision across the organization is often lacking, witness also the 3d most important barrier according to the Digital Barometer: lack of digital strategy.
The 3d component, first concrete steps, is also lacking quite often. Which technology platform do we settle on? Which tactics & skills do we internalize and which ones do we outsource? What is our 3-year roadmap to move towards our objective, taking into account level of digital maturity & business impact? And (how) do we share knowledge across the organization and minimize reinventing the wheel? And how do we track success and identify and celebrate early wins?
So, with levels of D(issatisfaction) high already, we need to work on the V and the F factors to put pharma squarely on the digital map. A lot of this can be done internally (governance, skill training, staffing, …but partners can help accelerate the pace of change and navigate towards the New Normal. Indeed, Accenture stipulates that partner selection is a key prerequisite for success ("Get the right set of partners, that can assist with execution, delivery and organizational change" - http://bit.ly/108ldEs). And of course, Across Health has helped several organizations in this important space.
So what are we waiting for? Let 2013 be the year of accelerating the move towards the cross-channel organization. Let's gear up…in the Olympic spirit… Citius.Altius.Fortius.
Written by
Fonny Schenck,
CEO
PS I also like this variation on Gleicher's formula: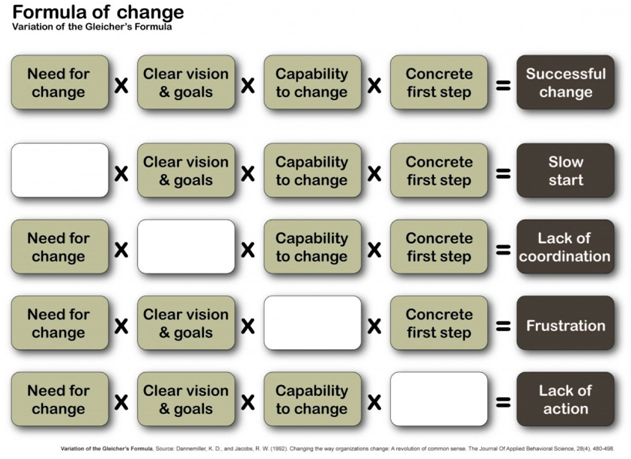 ---
Previous
Next