Across Health's Digital Barometer: 5 years later...the end of the beginning?
Newsletter: Survey
---
---
I am pleased to announce that we have just released the 5th edition of our Digital Barometer, which gives you a 360°view on the status, challenges and future of digital & cross-channel in life sciences across the globe.
Looking at the results holistically, it seems we have entered Gartner's trough of disillusionment, a sobering phase following after "heightened expectations", where the attitude is becoming much more critical. Indeed, ROI questions have never been more prominent, the level of satisfaction is lower than before, and digital budgets are growing at single-digit rates for the first time in 3 years (and even declining or flat in 42% of our respondents).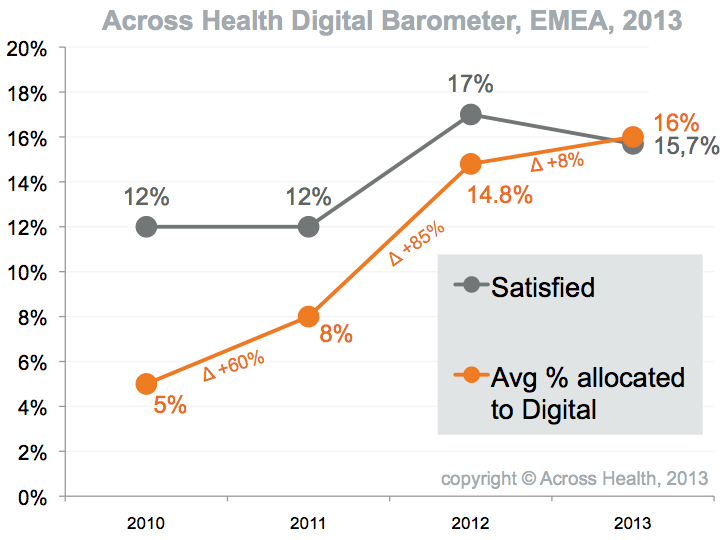 A focus on innovation for innovation's sake, a strong agency push for shiny new toys (tactics-vs-strategy), as well as a lack of companywide digital strategy & organization (see also last month's editorial) have probably led to this situation five years after we started measuring the temperature of digital.
However, it is clear that you cannot walk away from digital, despite its mixed track record to date. Getting the right cross-channel team in place, defining the right KPIs, allocating a relevant budget to digital and ensuring buy-in and expertise with the customer-facing teams will be key drivers to help companies reach the slope of enlightenment. Together with you, I trust 2013 will later be seen as a transition year, which will be followed by fast-paced adoption of powerful cross-channel frameworks with a strong focus on customer centricity and mobility. The opportunity is huge in the US and Europe...but arguably even higher in the emerging markets.
I wish you all good luck on your journey towards the New Normal!
Written by
Fonny Schenck,
CEO Across Health
PS: The full deck can be found here ...
---
Previous
Next