Across Health in the 2nd Annual Channel Optimization in Pharma Marketing 2018
News
---
Fonny Schenck (CEO) and Ruud Kooi (Managing Partner) of Across Health will lead a workshop at the 2nd Annual Channel Optimization in Pharma Marketing event, where Marketing and Business leaders from pharma and biotech organizations will come together to evaluate the flow of innovations in the last 12 months.
Attendees to the Workshop "Proving Omnichannel Impact on Sales – Build the Business Case to Justify Investments" will learn more on the Navigator, and how to use the insights of this unique Across Health offering to know which channels, content and context affinities lead in the HCP landscape, and how to build an integrated HCP omnichannel business case and strategy with strong predictive power.
Click here to take a look at the Full Event Guide.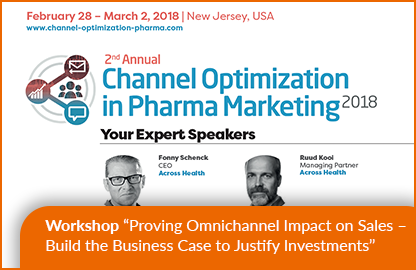 ---
Previous
Next