2013 - Across Health Digital Barometer
Survey
---
---
Benefit from its insights in 3 steps…
1. Preview the Highlights of the Digital Barometer 2013 results here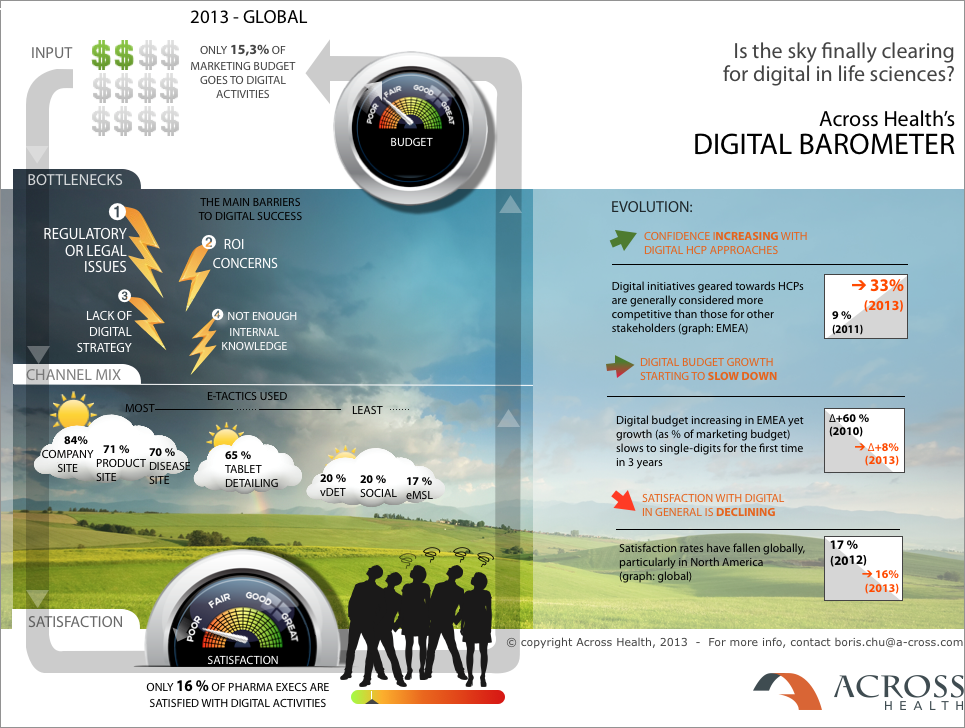 297 respondents from 100 different life science companies completed the online survey with 91% coming from pharma

Healthy mix with 55% working at National / Local level, and 45% having an international role

Companies are pleased with their digital HCP approaches vs. the competition (only 29% feel behind)... but satisfaction with digital in regions is dropping to pre-2012 levels.

Websites are still the most popular digital tactics. Overall, the focus seems to lie on "digitizing" the rep (tablet detailing, remote detailing) i.e. "business as usual"...but not per se the most impactful tactics.

The top 4 bottlenecks for success are regulatory and legal issues, lack of digital strategy, ROI, and lack of internal knowledge. The latter two are rising fast.

Digital budgets continue to be low. The future outlook is positive though, as the majority reports that the digital budget will increase.
2. For more details, see the deck online…
… and view the webinar …

3. …then find out how your company compares by conducting your very own in-house survey
---
Previous
Next