Meet the 2013 trends
Newsletter: Come Across
---
---
Dear colleague,
Which trends will shape fusion marketing & digital in 2013? As the new year kicks off, it is a good time to look to the year ahead and look back to the 2012 predictions.
In the 2012 trends, "mobile first, social second" was the key theme... For pharma, this was half right & half wrong. Indeed, mobile went from strength to strength, but most of the "buzz" was around apps (which are only the little cherry on the big mobile cake) and tablet detailing (boosted by the promise of "true closed-loop marketing at last" and competitor catch-up) and already in 2012 we were seeing the first signs of a rude awakening.
"Social second" never really happened in pharma in 2012, with most pharmas reducing their social media "push" (in fact, a contradiction in terms) significantly due to regulatory uncertainty and limited customer engagement. Both trends were confirmed by our 2012 Digital Barometer, with mobile surpassing social in a big way (slide 36). The third big trend, internet TV, did not really happen anywhere in 2012, so the last mass channel is still to be conquered by digital, also in pharma.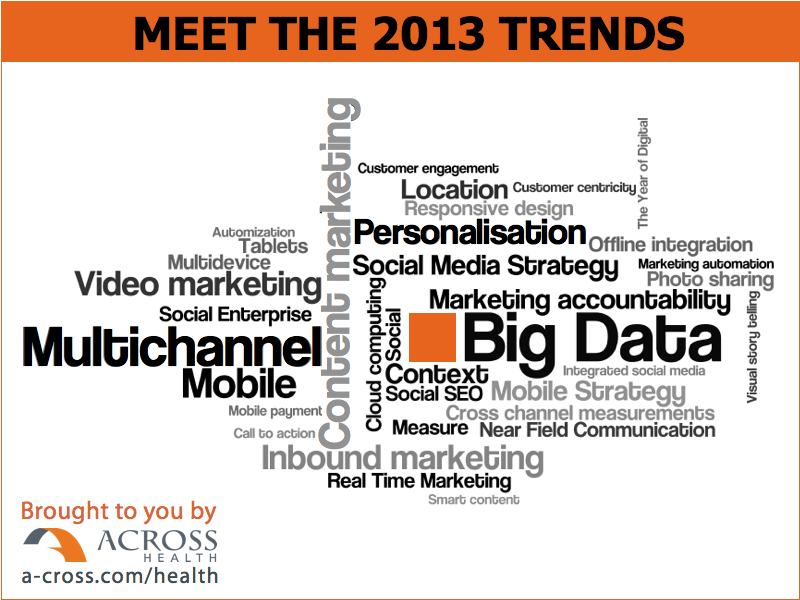 If we look at the 2013 trends tagcloud, mobile continues to be a key focus, but is squarely pushed away from the top spot by "big data" and "multichannel", with "content marketing" and "inbound marketing" as runner-ups, and also "personalization" and "marketing accountability" coming to the fore. In pharma, big data is certainly rising fast on the Gartner hype cycle. Indeed, the promise is huge, but I guess the focus in the short-term should rather be on "right data".baby steps in structured data capture and enrichment may finally lead to impactful segmented/personalized multichannel offerings on websites, email programmes, tablet detailing etc..an area where several other industries have paved the way with best practices.
In this perspective, "inbound marketing" is another - and often overlooked - dimension of "multichannel" marketing for pharma. If companies open up inbound service channels and manage to link these to outbound activities through a shared customer profile, "multichannel" is moving beyond the one-way mass push it very often still is and is slowly moving towards the holy grail of personalization and real-time marketing, powered by "right data".
If all of these key trends are applied rigorously and on a broad scale, marketers will be able to create compelling and robust business cases around the impact and customer engagement of digital/multichannel. And they will need to do this, as increasingly inpatient C-level leaders are pushing marketers to "show them the money" and demonstrate how digital is "moving the needle". For those companies who get it, "marketing accountability" will be a walk in the park in 2013 and beyond.
So, 2013 promises to be another banner year for digital in life sciences, potentially even the first year of the New Normal. Let's enjoy the ride!
Happy New Year.
Fonny Schenck
CEO, Across Health
PS Of course, we will capture & report key trends in pharma based on our upcoming annual digital barometer. Hope you will all participate!
---
Previous
Next