Digital channels continue to proliferate, while many traditional ones see reduced reach & impact. At the same time, channel mix optimization and knowledge of channel affinity are key weaknesses in pharma's digital transformation journey, as confirmed by our 2019 Multichannel Maturometer.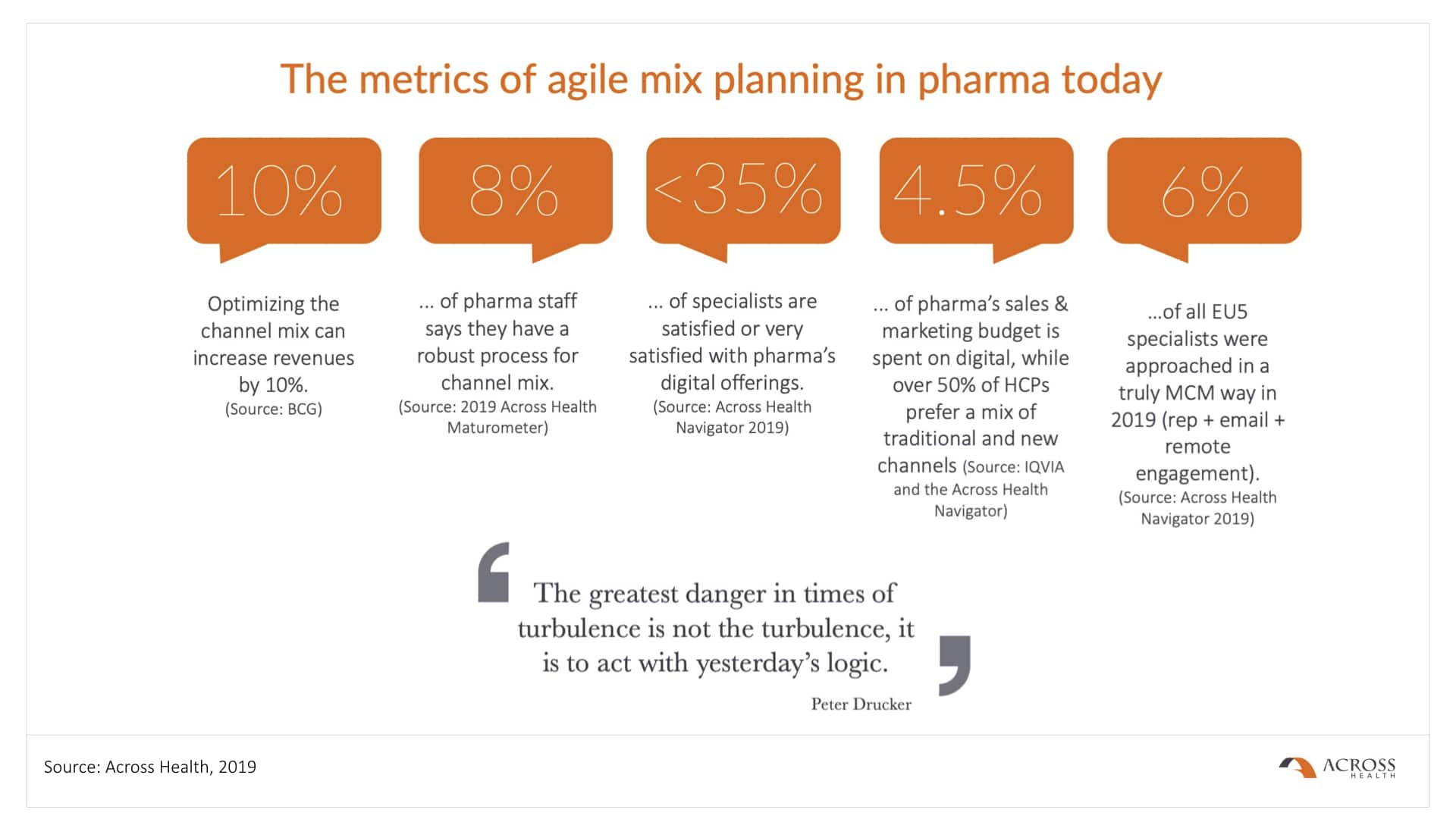 A fact-based decision platform for optimizing the mix in life sciences is therefore a critically important asset to gain and sustain competitive advantage. Across Health has been leveraging an FMCG-inspired optimization methodology for conducting channel affinity and impact studies with a wide range of stakeholder groups (physicians, patients, and payers): the Navigator.
On these unique, data-rich channel findings, we perform a series of novel analyses, with the primary aim of supporting fact-based channel mix & content decisions – for campaign planning and measurement as well as resource optimization (see also our Omnichannel Planner and Omnichannel Launch Excellence sections). Specifically, we developed and use the concept of multi-channel equivalence (MCQ), which compares the relative reach/impact of channels to a 'gold standard' (for promotion: rep equivalence; for medical: MSL equivalence; for patients: a visit to their primary care physician). The Navigator also provides actionable insights on content, context and 3rd-party media outlets, with a view to ensuring full customer engagement.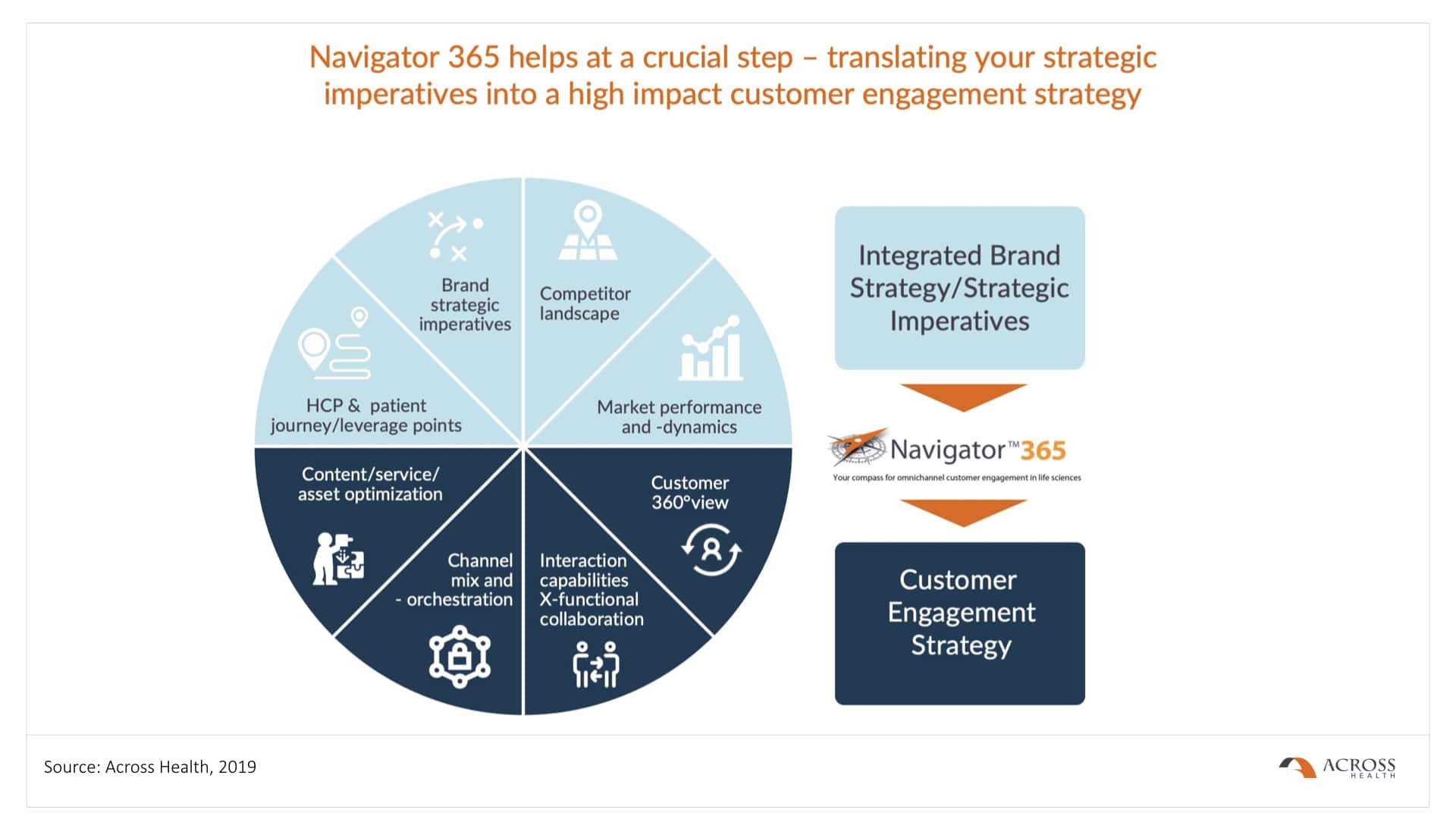 The Navigator database now features omnichannel engagement trends (channels, content, media, …) of close to 36,000 physicians and offers unique historic or diachronic big-data opportunities (over 30 million data points).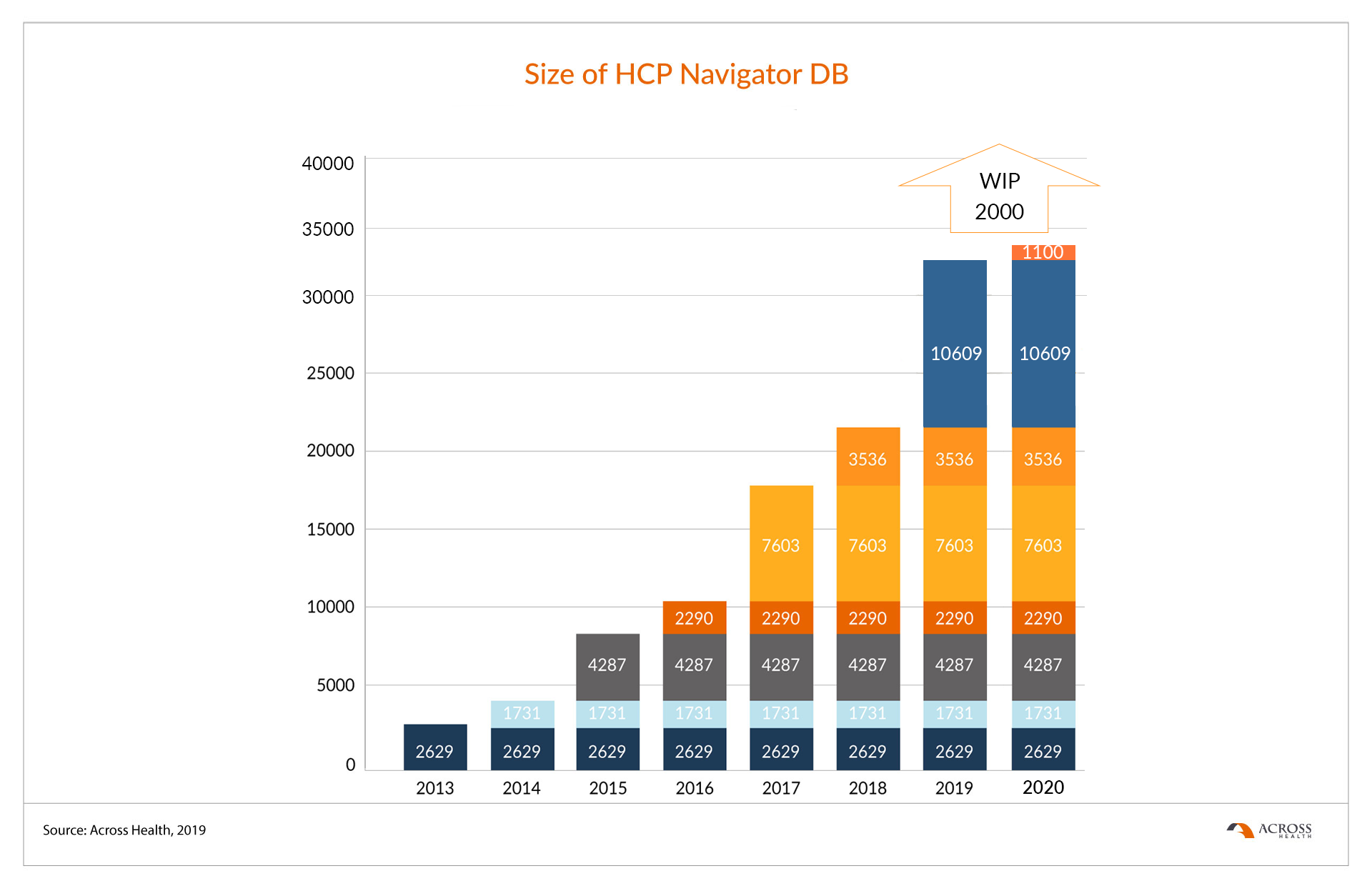 With the Navigator 365, launched in the summer of 2019, we are taking our unique research to the cloud, enabling access "anytime, anywhere" for anybody within a client's organization, as well as offering a rich set of new DIY "powertools" (enabling analyses across countries/Tas/time etc). In addition, the research provides attitudinal & demographic drivers for channel preference, cost-effectiveness analyses, as well as the influence of patient support offerings and emerging health technologies. Finally, we also added a strong benchmarking component, featuring benchmarks on 18 online and offline channels as well as weighted indices, normalized scores etc.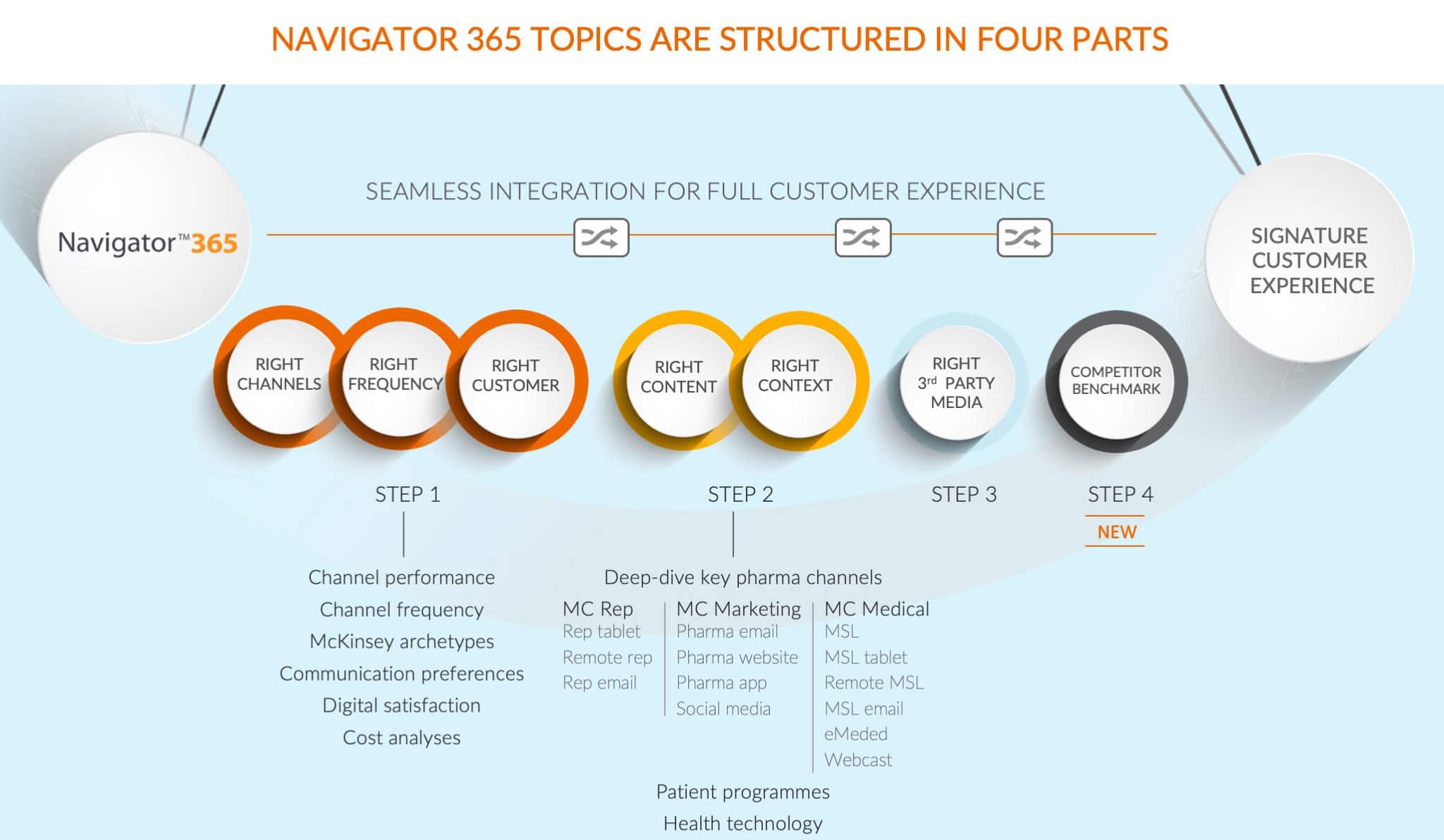 If you too want to stay ahead of the competition by ensuring a top-notch omnichannel customer experience and engagement, and want to know why 40+ pharma companies are using the data, then you should definitely consider Navigator365!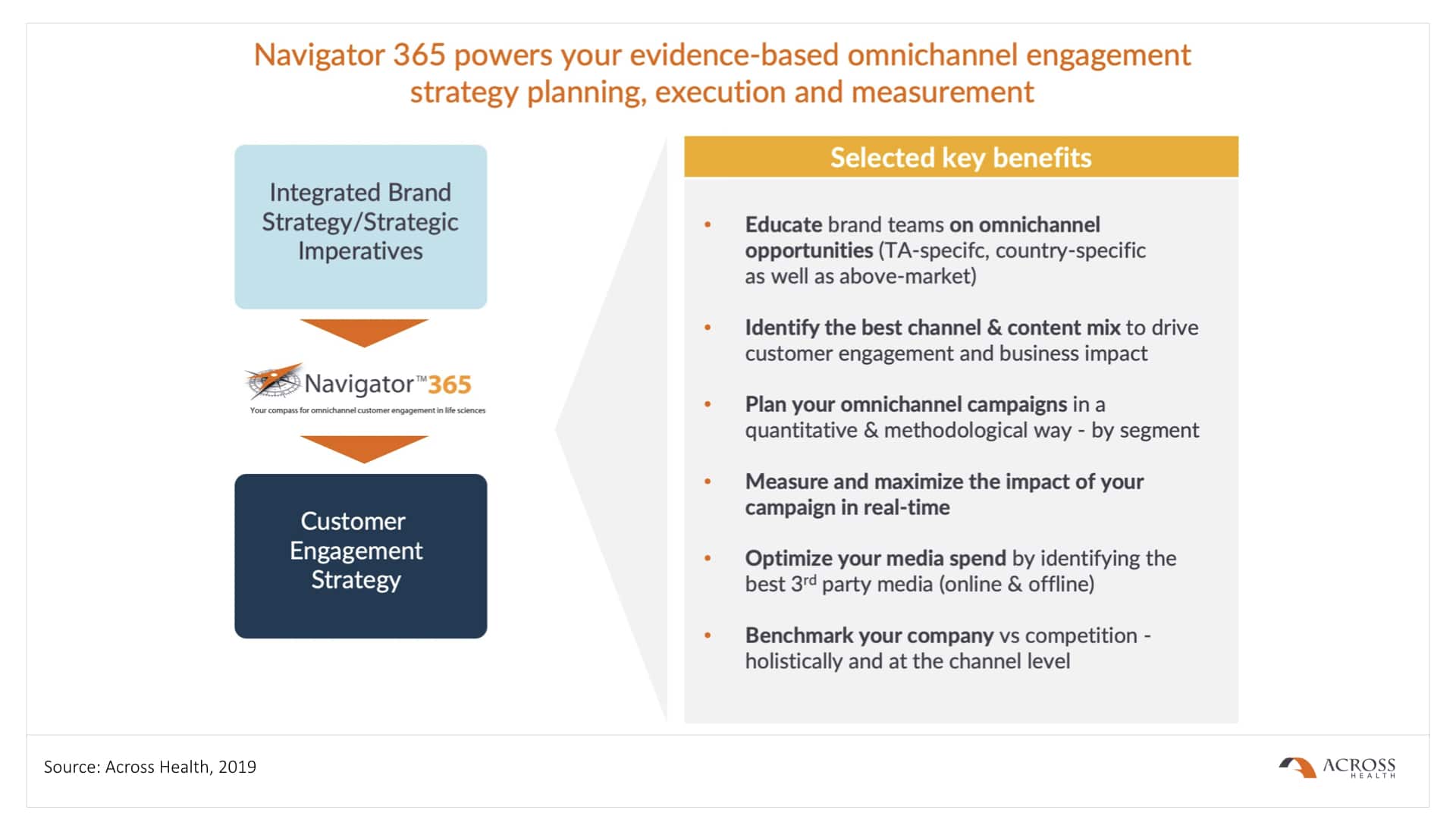 For more information, please contact us.
NOTE Next to the Navigator offering for HCPs, we have also released a cloud-based Omnichannel Planner tool, the Patient Navigator 3.0 and plan to release a new version of our Payer Navigator (Q3 2020).
Testimonials
"The Navigator 365 Powertool is fantastic! Such a useful resource to quickly access channel reach and impact data based on specialty and country. We are keen to communicate this offering to our corporate teams."
Corporate Business Lead: Analytics, Insights + Excellence, top 10 pharmaco

"The Navigator provides a customer-centric approach to selecting the right channels for the right countries. That is because the impact and reach measurements you get per channel come right from the voice of the customer - through a strong market research-based methodology. The Navigator is one strong part of the decision-making mix, of course along with a strong multichannel strategy and real-world experience of what works."
Director Commercial Excellence Europe, top 10 pharmaco

"The Navigator data based on reach and impact has become a critical part in the tactical planning of multi-channel activities as it allows a clear and straight forward way to select and consider trade-offs between different channels. Today the Navigator data provides key insights and drives our multi-channel decisions both on a regional and country level."
Head of Commercial Excellence Europe, leading biotech company