Facts for thoughts
Shared insights to fuel your OCE thinking
---
May 2021
BEWARE THE SWAN EFFECT IN YOUR CUSTOMER DATA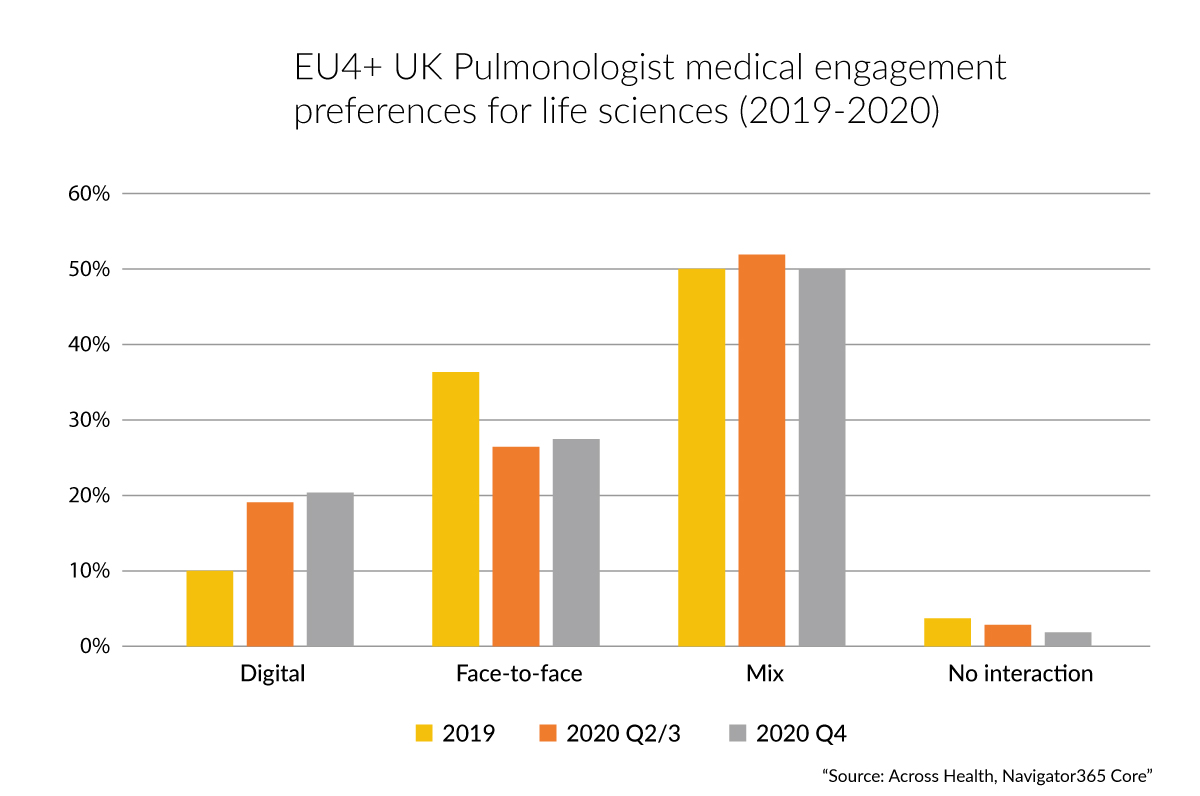 The 'Swan Effect' is one of the most well-known metaphors in business; the bird gliding gracefully on the water… but paddling like crazy beneath. We all recognise the illusion. But how many of us recognise the same potential for illusion when it comes to analysing our customer data? We should keep it in mind. Because sometimes – just like the swan – what we see on the surface tells a different story to the undercurrents frantically bubbling below. If we want to glide gracefully to commercial success, we need to understand both.

To demonstrate the point, let's zoom in on a random set of customers – EU4+UK pulmologists – and explore medical channel preference trends in 2019 and 2020. Based on Navigator365™ Core research, our analysis shows that during this time frame pulmonologists' preference for F2F medical engagements dropped but their appetite for digital engagement increased. And, at the end of 2020, mix + digital covered 70% of respondents' preferences for medical engagements.

Nothing much changed in the final 4-5 months of 2020. But could this "flatliner" average in latter months of 2020 conceal any deeper dynamics at the customer level?
---
March 2021
"PUMP UP THE VOLUME" WITHOUT CUSTOMER FOCUS IS A DANGEROUS STRATEGY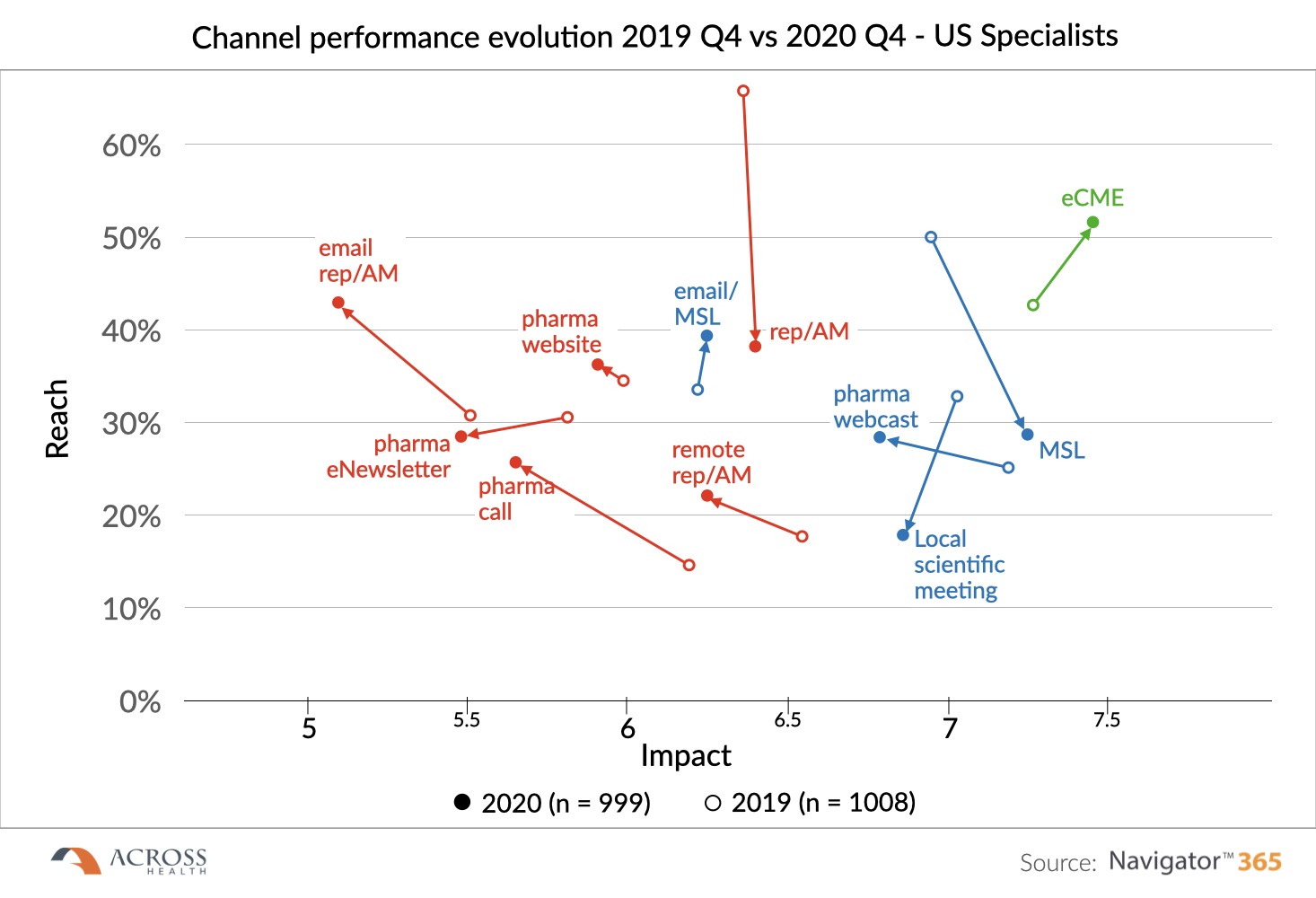 C19 pandemic forced biopharma to move to non-personal channels to compensate for the steep drop in traditional engagements. What has happened with the reach -and impact- of digital pharma channels since then?
Navigator365™ insights from US between Q4 2019 and Q4 2020 allow us to compare selected owned medical (blue) and promo (red) channels:
All traditional F2F channels unsurprisingly showed a strong decrease in reach, but their impact remained on par or even improved
Most digital field-originated channels went up in reach, but lost impact
Office-based channels (enewsletter, website, webcast) hardly showed any increase in reach and went down in impact
These results prove the Next Normal may just be around the corner, but biopharma needs to avoid digital fatigue by focusing on creating & executing an HCP-level omnichannel engagement strategy.
---
February 2021
BIG INCREASE IN MARKETING BUDGETS ASSIGNED TO DIGITAL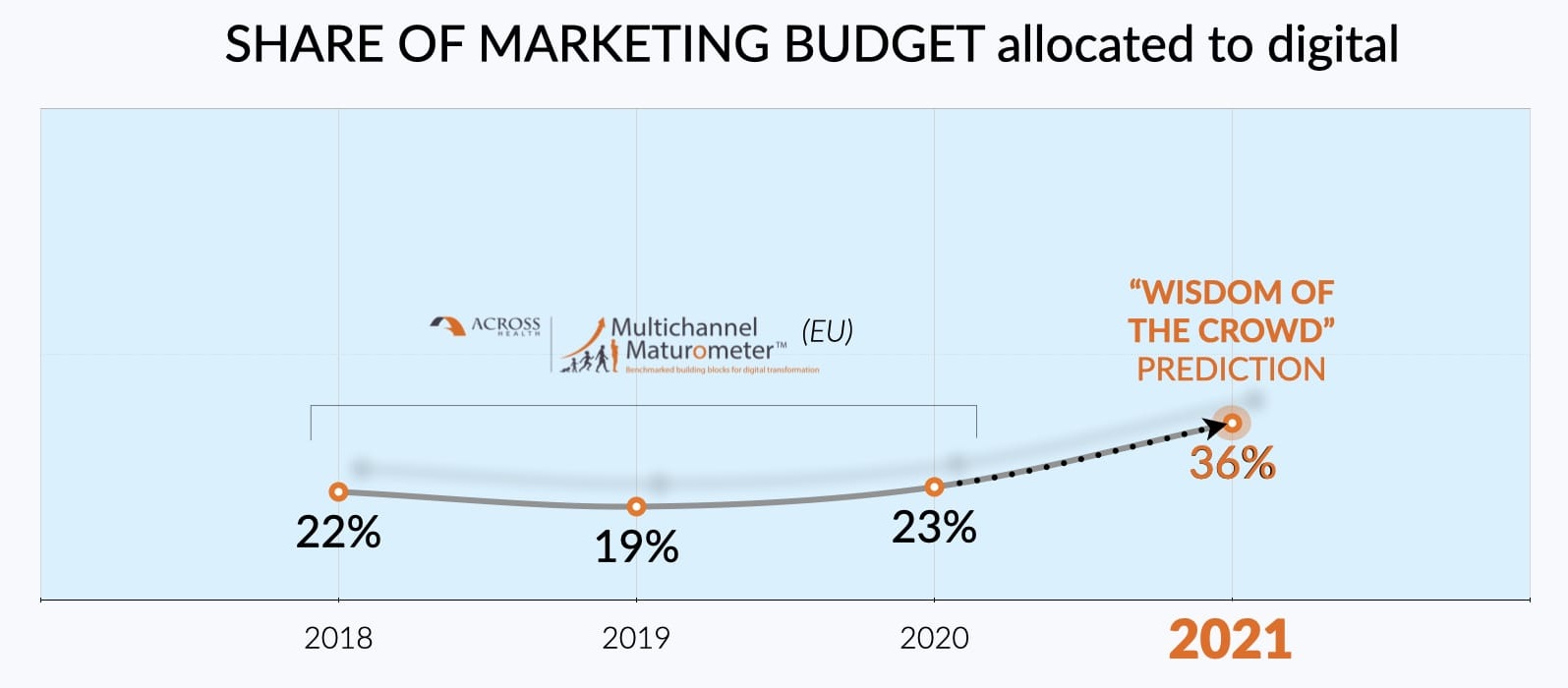 No surprise that our 2021 HCP engagement survey also reveals a growth tendency in the share of digital in marketing budgets…However, compared to the upward trend in HCP interest and satisfaction with digital pharma offerings, the increase here is HUGE (over 50%): from 23% in 2020 to 36% in 2021.
On the other hand, at 12%, the standard deviation for this question is by far the highest…(it was 0.7% for interest and 2% for satisfaction…). This may point to a "two-speed" evolution, with some life sciences companies resolutely taking the lead while others "watch & wait".
Source: Maturometer
---
February 2021
HCP SATISFACTION KEEPS RISING, BUT THERE'S ROOM FOR IMPROVEMENT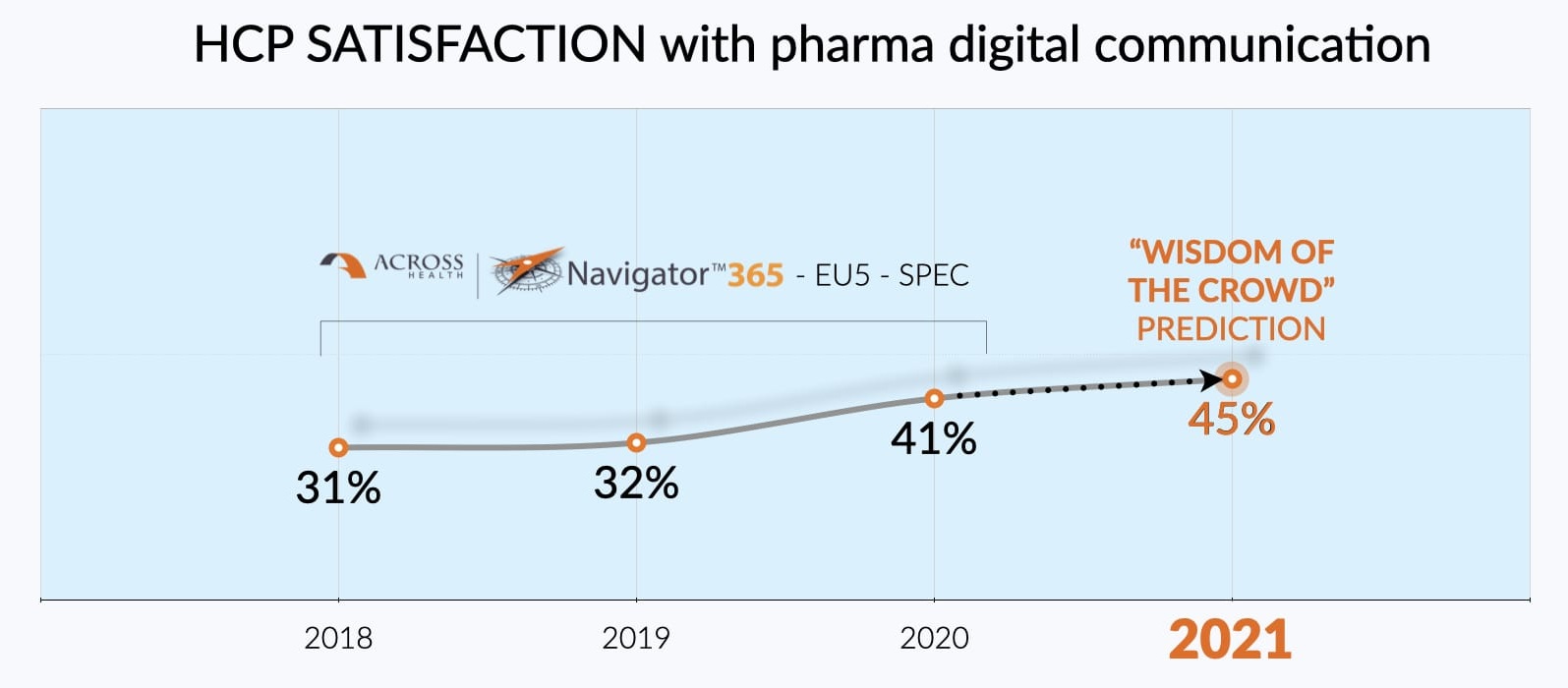 In terms of HCP satisfaction with digital communications from biopharma companies, the results of our 2021 HCP engagement survey shows the upward trend is present here too, but with 45% (up from 41% in 2020) estimated to be "satisfied or very satisfied" by the end of this year, it's clear that there's still a lot of work needed from biopharma to fuel the virtuous cycle of "better offerings->more satisfaction->more interest".
Source: Navigator365™
---
February 2021
"WISDOM OF THE CROWD" FIRST PREDICTION ON HCP INTEREST IN DIGITAL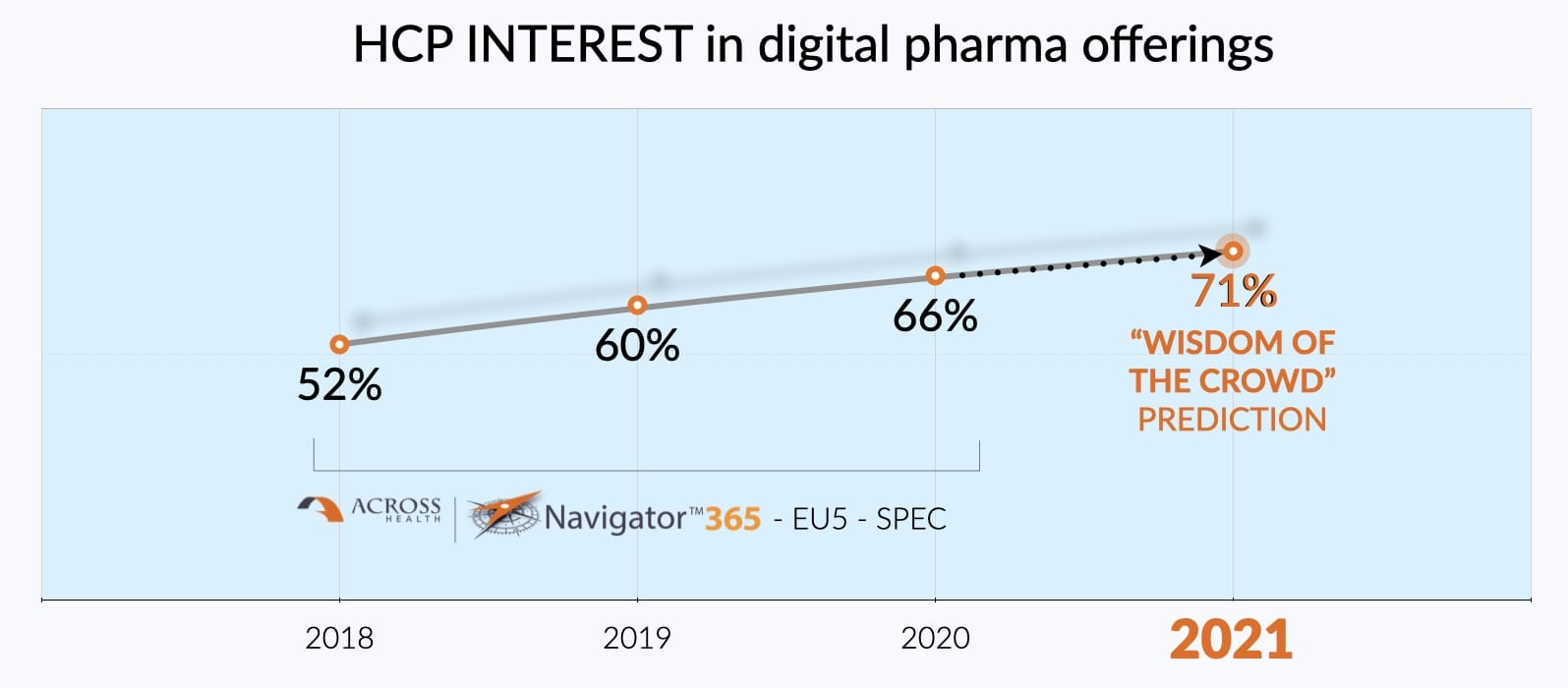 In January 2021, Across Health surveyed 100+ pharma staff around 3 key topics: HCP interest in digital pharma offerings, their satisfaction with pharma digital communications, and the share of marketing budget allocated to digital activities.
The aggregated results -"the wisdom of the crowds"- see the interest of EU5 specialists in digital offerings from biopharma rise to 71% in 2021 (vs 66% in Q4 2020). Although it's only a relatively small increase, the upward trend from the previous years is clearly continuing...
Source: Navigator365™
---