eCademy
---
Introducing eCademy – the unique eLearning resource for omnichannel strategy & implementation for life science professionals
About the eCademy
Ever since its first release in 2009, our Maturometer respondents consistently report a low level of expertise with digital/MCM/omnichannel in life sciences; at the same time, "upskilling the organization" has consistently ranked in the top 3 of company priorities.
To address these needs, Across Health offers several types of learning, under the "Excellerator" umbrella, including workshops, playbooks, 'The Missing Manual for Pharma Marketers' (over 2,000 copies sold), and…the eCademy, an interactive eLearning experience designed specifically for life science professionals.
Created by seasoned omnichannel experts, our eLearning modules teach you everything you need to know (but were afraid to ask) to boost your company's omnichannel customer engagement.
The 15 interactive eLearning modules (incl. a test at the end of each session) are about 20-25 minutes long and cover the below topics…and for each completed module, you will receive a certification.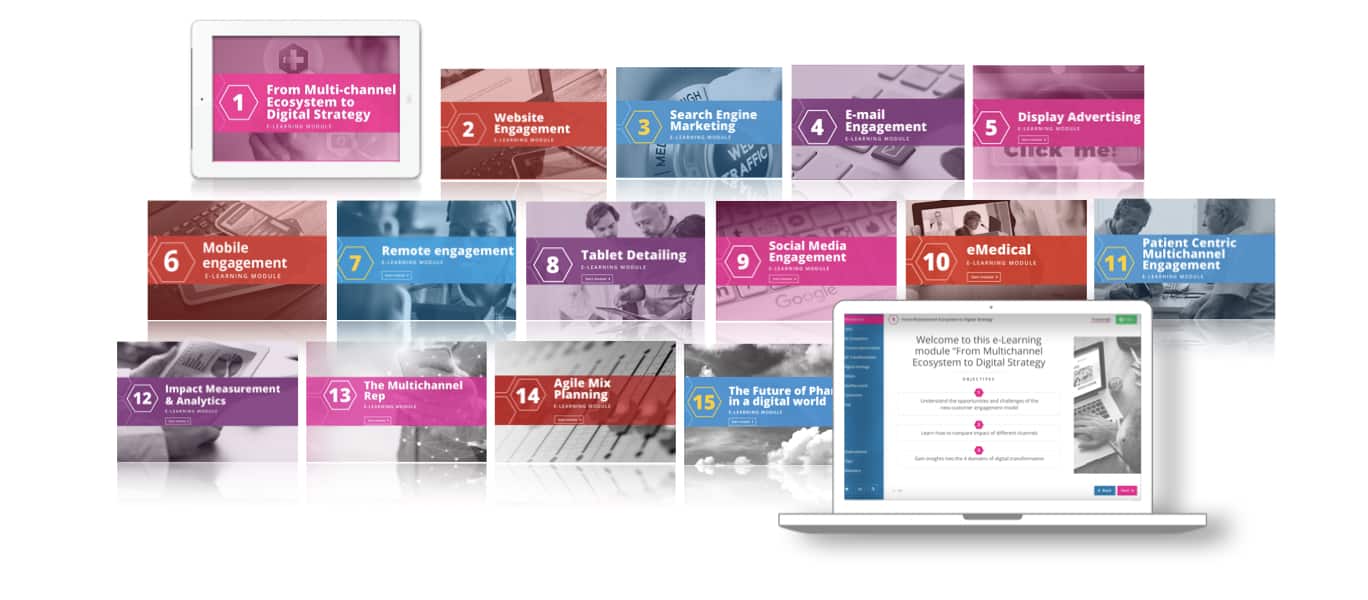 Our eLearning offering has already been rolled out to thousands of employees of several leading companies worldwide - with great satisfaction. If your company is not yet offering you any online learning opportunities and you need to improve your skills urgently, you too can now easily gain access to this treasure trove of omnichannel capability-building modules.
The modules are priced at €300 (VAT incl.) per module. You can also purchase the entire eCademy course bundle for the discounted rate of €3500 (VAT incl.) - and receive a free copy of our book to boot.
We also have bespoke offerings for enterprise clients. If you want your entire company or team to gain access to the eCademy and/or integrate them into your corporate elearning platform, contact us here.
Enhance your Omnichannel journey.
Discover the
Across Health eCademy!